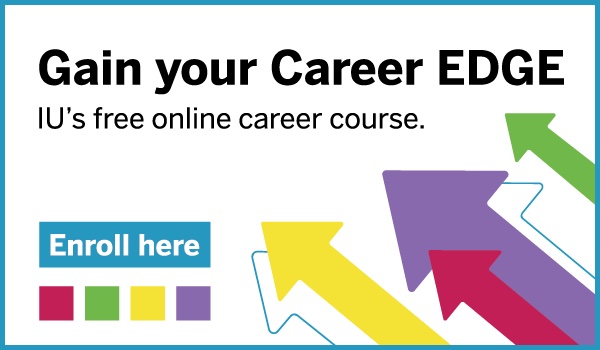 Gain your Career EDGE
IU's free online course helps you chart your career path.
Build a foundation for your future career path by checking out Career EDGE, a set of online Canvas modules that supplement the resources offered by IU's career centers and staff. The content has been recently updated to meet the evolving needs of students and the job market. Even if you took it before, it's time to check it out again. No matter what stage of career development you're in, Career EDGE is for you.
Complete the 12 modules in any order that works for you. Whether you're exploring your options, know what you want and need help figuring out how to get there, or are getting ready to graduate, Career EDGE can help you:
Explore your options
Build your career
Land a job
Will spring grads be affected by the move to Exchange Online emails?
Yes. Spring grads have until April 15 to opt out of the migration to Exchange.
Student email at IU is moving from Google to Microsoft Exchange Online on May 17. If you would like to opt out of the move to Exchange Online because you will no longer be a student, fill out this form by April 15.
After this date you will be emailed instructions on how to set up your IU Alumni account and forward your IU email address to that account. This will result in a smoother migration experience from your IU student email account to your IU Alumni email account. Learn more about IU Alumni Association email accounts.   
What happens to your IU email accounts after you leave IU? 
If you are enrolled as an IU student on any campus, access to your IU computing accounts remains active for two consecutive terms (fall, spring, and summer are each considered one term). After that, your accounts will become inactive.
How do lies spread on social media and why do people believe them?
IU Bloomington to offer Social Media Manipulation course in fall 2022.
Disinformation. Fake news. Social bots. Echo chambers. Conspiracy theories. All of those things happened and more during recent elections and with COVID-19. Russia's invasion of Ukraine shows how misinformation on social media is exploited during wartime.
Are you curious about:
What makes technology vulnerable to manipulation?
How do algorithms affect what you see?
How can media literacy help you navigate social media?
To learn more, sign up for Social Media Manipulation, a new course that will be offered in fall 2022.
Reduce the high performance computing learning curve
See the UITS Research Technologies video.
Do you need to use high performance computing for class projects or in a research setting, but you are unaccustomed to Unix-like command-line environments? UITS Research Technologies developed the Research Desktop (RED) to help reduce the learning curve for users with little or no command-line experience.
Visit Design Corner at April 7 First Thursdays
Find the UITS display at the Design Corner.
Learn about top IU designer projects and experience the intersection of technology and creativity at the April 7 IU Bloomington First Thursdays Design Corner. 
Visit the UITS display at the Design Corner and find out about services available to students and faculty. Speak with staff, do some puzzles, and win some prizes. Highlights of the UITS exhibit will be:
VR demos
3D printing
Tech puzzles
Prize wheel
IU eTexts
IT Training
UITS job opportunities
Teach, Play, Learn call for proposals extended
Submit a topic for this summer's conference at IU Kokomo.
Teach, Play, Learn, IU's annual academic conference on game-based teaching and learning, has extended the deadline for submitting a presentation proposal to April 11. The conference will take place on Friday, June 24 at IU Kokomo.
Possible topics may include:
Use of board, card, or video games for educational purposes
Gamification of the course
Simulations and role playing
Use of augmented or virtual reality
Study and research of games in the context of education
Use of games in other educational contexts
Click for more info and to submit your Teach, Play, Learn proposal
Our tech conference is next week: Build your schedule!
Make it personal: choose sessions that speak to you.
The Statewide IT Conference 2022 is happening April 11-13. We've got informative and fun programming planned for you, so once you've registered, follow these steps to build your personal conference schedule:
Visit the conference website and click on "Attendee Portal."
Click "My Registered Sessions" in the left navigation of the Attendee Portal.
Scroll down to "In-Person Events" and click "Register" to view a full description of each session.
If you want to attend, confirm by clicking "Register" again in the pop-up window.
The sessions you've registered for will appear at the top of your "My Registered Sessions" page. If you change your mind, click on the session, and then click the red "unregister" button in the pop-up window.
Upcoming faculty requested training
Virtual training available in April on video learning, Teams, and more.
Recent listening sessions with faculty at IUPUI and IU Bloomington have prompted the addition of the following webinars from UITS Learning Technologies. Register today.
More IT news and events