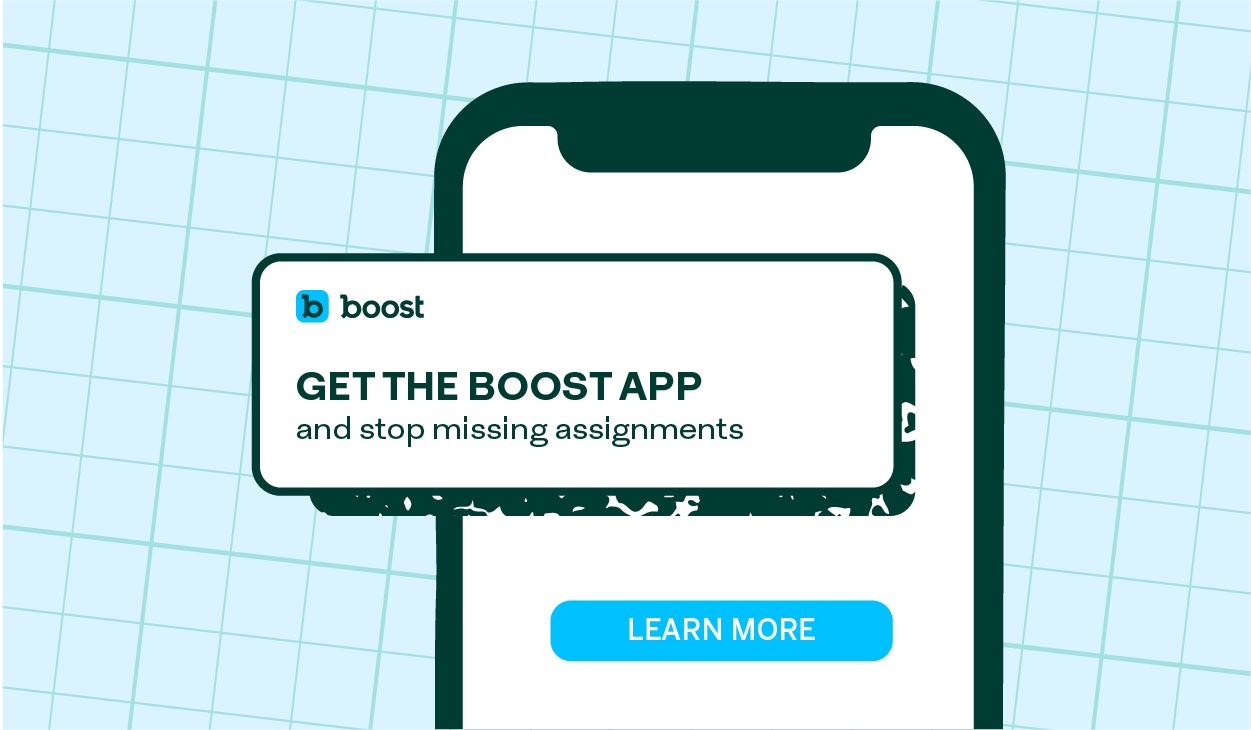 Get the Boost app
Stop missing assignments with the app that connects to Canvas.
Manage your workload with Boost, an app designed to help students prioritize assignments. Boost sends reminders about upcoming due dates, encouragement after submitting an assignment, and course announcements. Securely integrated into Canvas, Boost synchronizes with your courses and projects.
Research-backed and future-focused, Boost has helped students do better in school. All students need to do is download the app and connect it to Canvas with their IU credentials.
Celebrate Women and Tech March 4-31
Register now to attend the 9th Annual Summit on Women and Tech.
Connect, empower, and celebrate women and tech at the upcoming 9th Annual Summit on Women and Technology in March. In-person and virtual sessions featuring a variety of topics will be offered March 4-31. The conference is free and open to all skill levels.
Select registrants will have the opportunity to meet keynote presenter, Kari Byron, at a private gathering. IU Bloomington students can enter for a chance to meet Kari here.
Full- and part-time openings at the Support Center
Tech enthusiasts and night owls welcome. 
The UITS Support Center has several job opportunities available: search for the following Job ID numbers. 
The following part-time positions are in IU Bloomington, IUPUI, and IU Northwest:
Part-Time Support Center Consultant – IUPUI Indianapolis – Job# 299047
Part-Time Support Center Consultant – IU Bloomington – Job# 299046
Part-Time Support Center Consultant – IUNW Gary – Job# 298983
The following full-time positions are in Bloomington:
Computer Assistant (IT User Support Technician) – Bloomington – Job# 298922
Computer Assistant (IT User Support Technician) – Bloomington – Job # 299015
Computer Coordinator (IT User Support Technician) – Bloomington – Job# 298894
Supervisor (IT User Support Specialist) – Bloomington – Job# 299012
Overnight Supervisor (IT User Support Specialist) – Bloomington – Job# 299040
The Scholars Book Fair is around the corner
Go in-person at IU Bloomington and IUPUI or choose the virtual option.
Remember the excitement of the schoolbook fair? Enjoy reliving the fun at the Scholars Book Fair, where you'll learn about affordable course materials from UITS Learning Technologies and campus librarians. For a fun introduction to IU's affordable content options, register for one of our Scholars Book Fairs this March:
IU Bloomington: Friday, March 4, 10am-12pm in Alumni Hall at the Indiana Memorial Union. This event is part of the Annual Summit on Women and Technology. You can register for the Summit or

just the Scholars Book Fair

.

IUPUI: Friday, March 11, 11am-1:30pm in Hine Hall, rooms 102, 106 (Idea Garden), and 118.

Virtual event for all regional campuses: Thursday, March 10.
If you're in need of a one-on-one consultation, schedule a time with IU eTexts Consultant Noma Maier. And, as always, feel free to contact the IU eTexts team at etexthlp@iu.edu.
One more thing: If you're at IUPUI, consider attending the IUPUI Open Education Award during the Scholars Book Fair on March 11.
Registration is open for the Statewide IT Conference 2022
The 26th annual conference will be held in-person and online April 11-13.
With a theme of "Powering Student Success," the 2022 Statewide IT Conference will take place April 11–13. Preconference activities take place April 11 with an opening reception that evening.
Dave O'Guinn, IU vice provost for student affairs and dean of students, will deliver the opening keynote at 9:30am on April 12 at the IU Auditorium in Bloomington. He will discuss the importance of IT and data in driving efforts in student engagement, retention, and success.
Breakout sessions will take place April 12–13 in the Indiana Memorial Union.
Stay organized and collaborate with Microsoft Teams at IU
Basic collaboration and project management webinars March 2 and 31.
Are you working on a project and wondering how to stay organized and collaborate with others? Microsoft Teams can help. Two March webinars help you streamline collaboration and communication with Microsoft Teams.
Teach in the ALCOVE
Explore a variety of emerging technologies in a focused and controlled atmosphere.
The ALCOVE (Active Learning Classroom of Valuable Experiences) is a unique space that fosters a close partnership between UITS Learning Spaces, instructors, and students. Think of the ALCOVE as a space to try out emerging instructional technologies like digital whiteboards, collaboration screens, mobile technologies, and configurable furniture.
Go here to sign up to teach in the ALCOVE.
Let's get digital
More IT news and events