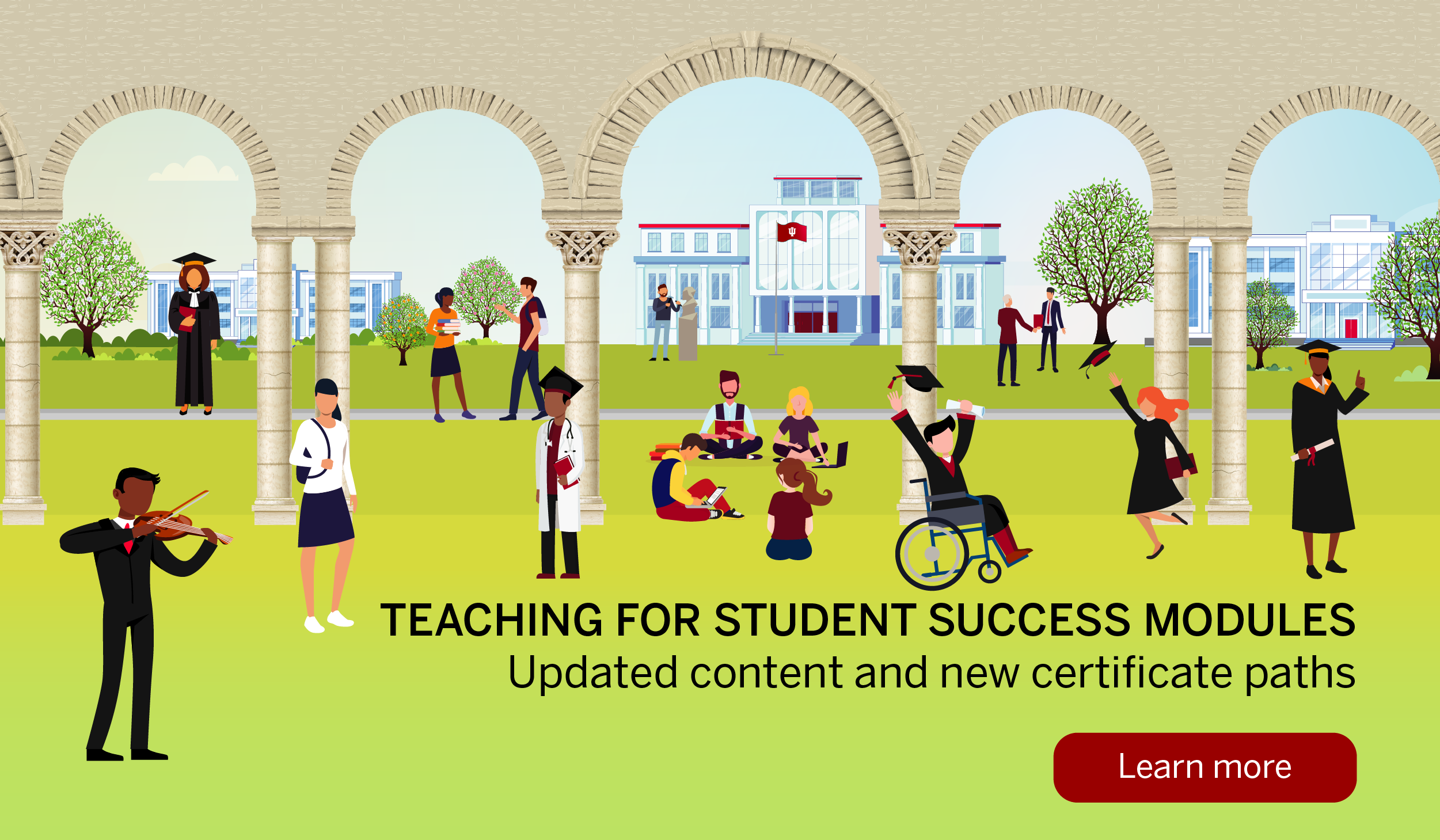 Faculty: Teaching for Student Success updates
New content aids professional development. 
Teaching for Student Success, a professional development series created expressly for IU faculty, by IU faculty, has launched its second edition. The new modules help you articulate your teaching philosophy and better serve your students.
New content includes: 
An Active Learning certificate pathway, with modules on Helping Students Learn How to Learn and Collaborative Learning 
Updates to the Making a Good First Impression module, including accessibility and drafting a teaching philosophy 
Coming soon, a Diversity, Equity, Inclusion, and Justice pathway 
The course is available at no cost to anyone who teaches at IU. 
Want to learn more about escape rooms?
Register for the June 25 Teach, Play, Learn conference.
Faculty, students, and staff are invited to attend the annual Teach, Play, Learn conference on game-based teaching and learning. The virtual conference takes place Friday, June 25, from 9am to 3pm ET. There is no cost to attend.
A professor of game design, Dr. Scott Nicholson, from Wilfrid Laurier University in Brantford, Ontario, Canada, will be the keynote speaker. The author of Unlocking the Potential of Puzzle-Based Learning, he will explore a narrative-first approach to education escape room design.
UITS job opportunities
Be a Support Center consultant in Bloomington or IUPUI.
The UITS Support Center is looking for a large, diverse pool of candidates to interview for consultant positions at IU Bloomington and IUPUI. You must be available to work at least two full semesters. Consultants work 20-29 hours per week and must sometimes work evening and/or weekend shifts.
Support Center consultants gain valuable client service experience and technical knowledge and learn troubleshooting skills and critical thinking.
Go on the hunt for cyber attackers
Learn how during OmniSOC's virtual summer internship.
Learn basic network cybersecurity from IU's OmniSOC, one of the top cyber threat-hunting teams in the U.S., and Elastic, the search and security company used by eBay, Wikipedia, and Netflix. The summer internship runs from June 28 to July 15.
The internship seminars will focus on cyber foundations training, network fundamentals, and incident response.
Registration is open to IU students until June 14.
Calling all teenage codemakers and codebreakers
Wonderlab and IU cybersecurity experts team up for summer workshop.
Do you have a middle or high schooler with an interest in cybersecurity? Wonderlab and IU cybersecurity pros are hosting a weeklong "Codemakers and Codebreakers" virtual workshop in June. 
When: Monday, June 21 – Friday, June 25, 2021
Time: 9:30am-2:30pm ET daily, via Zoom
Among the topics covered are cryptography, cybersecurity careers, cybercrime, data forensics, lockpicking, network security, programming, social engineering, vulnerability testing, and website penetration testing. These subjects are taught with interactive exercises, games, and discussion. This program is sponsored by IU's Center for Applied Cybersecurity Research.
IU's Advanced Visualization Lab digitizing Glenn Close costumes
See the costumes in person at IU's Eskenazi Museum of Art.
Some of Glenn Close's most iconic costumes from movies such as "102 Dalmations," "The Stepford Wives," and "Dangerous Liaisons" have been digitally captured, enabling scholars a close-up look at jewels and beads, intricate stitching, and textile layering.
The digitization process will continue as the Advanced Visualization Lab (AVL) continues to partner with IU's Eskenazi School of Art, Architecture + Design Sage Collection, spanning 250 years and 25,000 artifacts of clothing and fashion accessories. The AVL is part of UITS Research Technologies.
You can view the Glenn Close Costume Collection in person at the IU Eskenazi Museum of Art on the Bloomington campus through Nov 15. Reserve your spot to see "The Art of the Character: Highlights from the Glenn Close Costume Collection."
More IT news and events