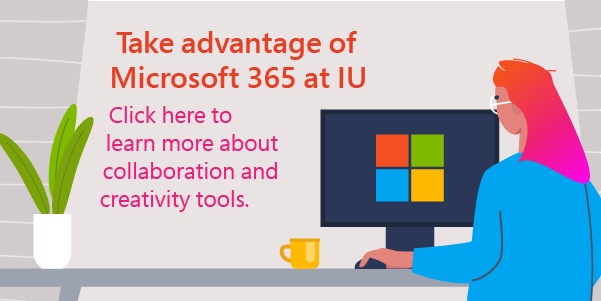 Take advantage of Microsoft 365 at IU
Learn more about collaboration and creativity tools.
IU students, faculty, and staff have access to the powerful Microsoft ecosystem with Microsoft 365 at IU. Check out Microsoft Teams at IU for real-time collaboration, video conferencing, and project management tools. Sign up for training to build your skills in Teams and Microsoft at IU storage.
Ninety-five percent of faculty and staff have been migrated to Exchange Online, which helps you work smarter in the Microsoft suite. Here are some of the benefits:
Beware of April 6 phishing attempt
IU will never ask for critical, sensitive information over email.
If you received a phishing message on April 6 with the subject line "Re: IU Employee Support Program," please do not click on the links in the message. This was an actual phishing message intended to do harm.
"Green Dot COVID-19 Benefits" referenced in the message is a scam, and we urge you to always be wary when a message asks for personal information. Please remember that no one at IU will ever ask you for critical, sensitive information over email (such as your Social Security number, driver's license number, etc.).
If you submitted information to the phishing site linked from the email, immediately contact the University Information Policy Office at it-incident@iu.edu and your local IUPD campus office.
It's our shot, Hoosiers
Roll up your sleeves and get vaccinated, says IU VP for IT Rob Lowden.
It's your shot. Take it.
Everyone in Indiana ages 16 and older is eligible for the COVID-19 vaccine. Visit ourshot.in.gov to schedule yourself or a family member.
That's what Rob Lowden recently did. As IU's vice president for IT and chief information officer, Lowden knows that getting vaccinated puts us all one step closer to herd immunity, which public health experts say is 75 percent of the population vaccinated.
Job openings at the UITS Support Center
CrimsonCard office and support center positions available.
Improve your career marketability. Gain valuable client service experience and technical knowledge. Learn troubleshooting skills and critical thinking.
The CrimsonCard office has part-time job opportunities at IU Bloomington and IUPUI. Duties include the production and issuance of the official IU photo ID card. CrimsonCard consultants are required to work at least 15 hours a week and must commit to two full semesters.
The UITS Support Center is hiring part-time consultant positions at IU Bloomington and IUPUI. Consultants work 20-29 hours per week and are required to be available to work evening and/or weekend shifts. You must commit to work at least two full semesters. 
Women: Does your research intersect with technology?
Enter a poster competition and win a prize.
Registration is now open for the annual 2021 Women's Virtual Research Poster Competition, sponsored by the Center of Excellence for Women & Technology. Share your research, present a poster, receive feedback from judges, and network with other women researchers. Entrants compete for prizes (up to $200) in one of five discipline categories in both undergraduate and graduate divisions, as well as a People's Choice Award.
Enter by April 12 and submit your poster by April 16. The award ceremony will be on April 23.
Box: Time is running out
Cloud storage service is read-only, and all files must be removed before May 10.
Choose an individual or institutional storage location before you move your files. Go to the IU Box retirement FAQ for more.
To ensure institutional data is secure and to give colleagues access to the information even if you leave IU, please use the institutional storage request form.
IT Training offers live or recorded webinars on Microsoft OneDrive at IU or Google at IU My Drive.
More IT news and events