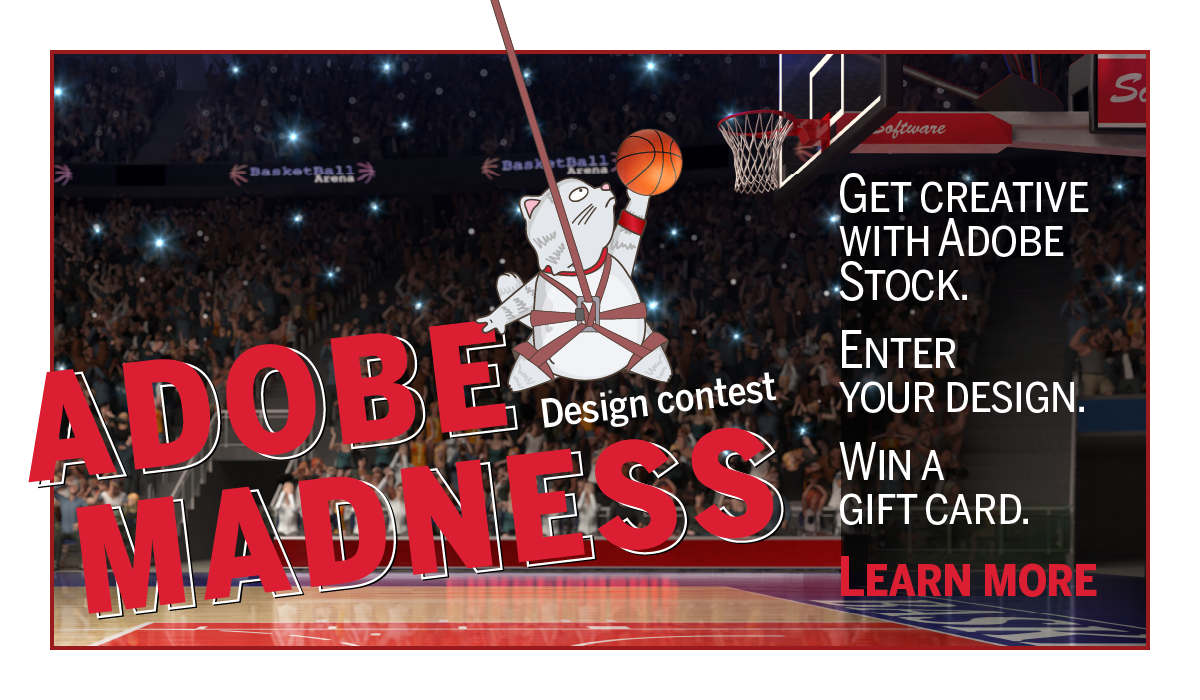 Get creative with Adobe Stock
Enter your design and win a gift card.
March Madness is in full force in Indiana, and you can get in on the fun! The UITS Adobe Madness design contest is an opportunity for you to showcase your creativity using apps in Adobe Creative Cloud. Faculty, staff, and students are eligible to enter.
Submissions will be accepted until April 2, then posted on the UITS Instagram account for voting. The entry with the most votes will receive a $20 Starbucks gift card and a feature spot on the UITS Instagram account.
Student speed dating with technologies
April 2 webinar offers prizes and giveaways.
Which technology will make a lasting impression on your student experience? Come spend a little quality time with lots of different technologies and see if you can make a match.
An April 2 webinar, 12-1:30pm ET, features nine-minute sessions to speed date a specific technology tool or service before moving on to the next date.
Students that visit at least seven breakout rooms will be entered into a drawing to win a $20 Amazon gift card, a personalized 3D printed keychain, and other cool swag.
Harness the power of Adobe Stock
Register for March 30 webinar for a chance at an Apple watch.
IU users now have access to Adobe Stock, including more than 200 million photos, illustrations, and other assets, useful in teaching, presentations, or other work. Adobe is running a special webinar for IU users, "Bring Your Work to the Next Level With Adobe Stock," on Tuesday, March 30, 3-4pm ET.
Learn how to make your work stand out inside and outside of the classroom. Unleash your creativity through our expanded Creative Cloud Pro Edition for IU that includes unlimited access to Adobe Stock photos, illustrations and vectors.
Register and attend the webinar on March 30 to be eligible to win an Apple watch. The winner will be announced at the end of the Q+A. 
IU eTexts celebrates 10 years of savings
Students have saved more than $69 million.
As the IU eTexts initiative celebrates its 10th anniversary, the program continues to expand, improve, and create significant savings for students on all campuses. Since 2011, students have saved more than $69 million off retail textbook prices.
In addition to digital versions of paper textbooks, IU eTexts now encompasses a full range of digital learning tools and courseware, including games, simulations, and video feedback tools.
A pandemic-perfect platform, faculty responded to the emotional and financial impact of COVID-19 by increasing the use of digital resources. During the 2020 fall semester, 56 percent of the student body used IU eTexts in more than 3,000 classes across nine campuses and regional academic centers.
Box retires May 10
Take webinars to learn about storage options.
Box is now read-only, and all files must be removed before May 10. Go to the IU Box retirement FAQ for more.
To ensure institutional data is secure and to give colleagues access to the information even if you leave IU, please use the institutional storage request form.
To learn more about IU's individual and institutional storage options, IT Training offers live or recorded webinars on Google at IU My Drive or Microsoft OneDrive at IU.
Faculty and staff: Exchange Online offers advanced protection
The migration continues until April 13.
More than 70 percent of faculty and staff have been migrated to Exchange Online, and all are scheduled to be completed by April 13. Watch for an email notification seven days ahead of time, and again one day before your migration.
The move to Exchange Online for faculty and staff will improve IU's email security by requiring two-factor authentication. The Microsoft 365 (formerly Office 365) platform also provides many advanced threat protection settings and other enhanced controls, such as spam containment.
Exchange Online integrates directly into Microsoft Teams at IU, allowing you to schedule meetings and see your Exchange calendar and free/busy information, all within the Microsoft Teams application.
More IT news and events