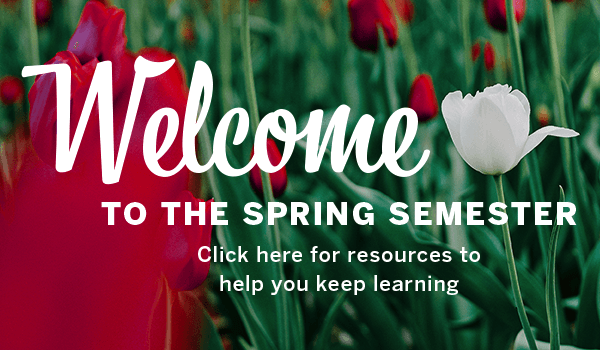 Welcome to the spring semester
IU has numerous tools and resources to help you be successful.
Just a few more weeks until spring! In the meantime, IU has the tools and resources you need as the spring semester kicks off Jan. 19 with online classes. Want to make sure you have the right tools and support to be successful? Go to IU's Getting Started Guide and check out IU's Keep Learning site, with details on technology, staying connected, self care, and campus resources.
There are a few things to keep in mind as you connect to IU resources. Always use the official IU client or app for Zoom, Canvas, VPN, Kaltura, Adobe Creative Cloud, and more. If your personal laptop isn't up to the task, be reminded of IUanyWare, offering you all the power and software of IU from your remote location by connecting you to computers in the Student Technology Centers and empowering access to resources, such as IU libraries, journals, and scholarly publications.
Voluntary in-person classes begin Feb. 8. Meanwhile, stay healthy and safe.
Our new chatbot needs your help
Asking questions makes it smarter.
Our new chatbot, the Ask UITS Virtual Assistant, is still learning, and we'd like your help to make it smarter. The bot uses artificial intelligence to determine the best answers to your questions about IU-supported technologies. As it gets more feedback from humans, the bot will refine its responses and improve over time.
Because the bot is in training, you can expect to get some wrong answers, or there could be a delay in the response. After giving an answer, the bot will ask, "Did I help?" Feedback is simple: just click the smiley or frowny face.
IU Print changes underway at IUB and IUPUI
Maintenance to student print queues continues through Jan. 17.
During the week ending Jan. 17, UITS is performing maintenance on student print queues at IU Bloomington and IUPUI. If the student printer shows as unavailable, UITS recommends going to a campus library to complete your printing.
Once you return to campus, you may notice some changes in how you print. If you currently use mobile print you will not notice any changes. If you use the IU Print BYOD Packages from IUware, you will need to download and install them again.
Be ready for upgrade to Exchange Online
Upcoming email will explain steps for migration to Exchange Online.
Exchange, which hosts the Outlook email client, will soon be upgraded to Exchange Online. An upcoming email will explain the steps you need to take to complete the update and to make sure your transition goes smoothly.
The Exchange Online migration will improve IU's email security and provide advanced threat protection settings. Exchange Online also integrates directly with Microsoft Teams, allowing you to schedule meetings and see your calendar along with Free/Busy information.
No more Box, but plenty of IU storage options
IT training is offering webinars on Google and Microsoft storage.
Box accounts will soon be read-only. You will be notified in advance of your read-only status. Box users are urged not to add any new content to Box as changes will be lost when IU's contract with Box expires in May 2021. Box documents can be viewed and downloaded until May 2021.
In the meantime, go to Microsoft at IU (OneDrive, Teams, Secure Storage) or Google at IU (My Drive, Shared Drives, Secure Storage) to learn about current and future storage needs. Numerous IT Training live webinars and recorded sessions are also available to help you store, share, and collaborate with colleagues. New sessions are focused on how to get the most out of each platform.
Faculty: Upgrades to SER provide more feedback options
Canvas gradebook data is now available real-time in the Student Engagement Roster.
Upgrades to the Student Engagement Roster (SER) enable more real-time feedback to students. After you complete your work in the Canvas gradebook, you can now go to SER and filter the roster based on those grades to provide feedback to a group of students. Faculty can filter the roster on Canvas assignments or totals for the class. Letter grades are now available for filtering when used in a particular class.
Once the filter is applied, SER feedback can be provided within the roster as it has always worked.
More IT news and events