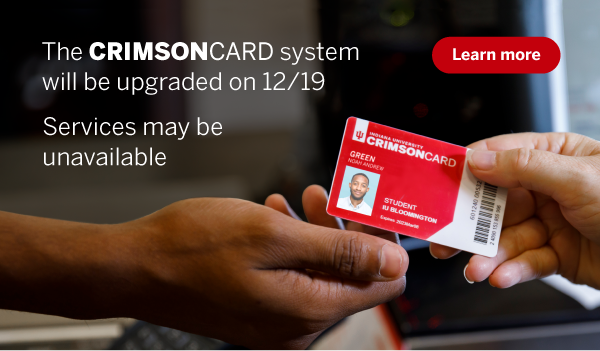 UITS Support Center winter break hours
Tech help is still here, even when you're not.
Need help with your new tech? Struggling with software while you're away from campus? Never fear, the UITS support team is standing by, ready to assist with your technology needs.
The UITS Support Center's phone, email, and chat options will be up and running every day except Christmas Day (12/25) and New Year's Day (1/1). During those closings, the UITS Contact Center will be open and phone calls will be routed to an answering service.
Note: At IUPUI, the 24-hour computer lab in IT131 will be closed from 12/16-1/5. It will re-open January 6 at 8am.
Learn more about the UITS Support Center winter break hours >>
January 8: PTI Seminar: brainlife.io
Start 2019 with an in-depth look at reproducible neuroscience research.
Join Franco Pestilli, assistant professor of psychological and brain sciences at IU, for a seminar on brainlife.io, a public cloud platform for large-scale data analysis, visualization, and sharing of reproducible neuroscience research.
Pestilli, project director of brainlife.io, will discuss the platform's ability to address challenges of neuroscience reproducibility by providing integrative mechanisms for publishing data and algorithms, while embedding them with computing resources to impact multiple scientific communities.
When: Tuesday, January 8, 1-2pm
Where: Wrubel Commons, CIB
Attend in person or via Zoom at: https://iu.zoom.us/j/8123451065 
Learn more about the seminar >>
Examity costs changing in January 2019
No-shows and late cancellations will now incur a fee.
Beginning January 1, 2019, students in online or hybrid classes using Examity for proctored tests will be charged a fee for a no-show appointment. A fee will also be charged for canceling or rescheduling within 24 hours of the start time of the examination.
Additional details will be provided prior to the start of the spring 2019 semester. There is no fee to use Examity if you keep your appointment.
Get the latest information about Examity costs >>
'Tis the season for new technology
Have yourself a sustainable holiday with these green IT tips. 
If a new device is on your list this year, keep these tips in mind when you dispose of your old electronics: 
Minimize your new device's energy use with power management settings and smart strips.
Donate your old device. It takes more energy to create something new—reuse extends the device's life.
Recycle broken or obsolete electronics. This allows recovery of valuable materials and prevents dangerous heavy metals like lead and mercury from getting into the environment.
Wipe your personal information from any device with a memory. If you can't wipe a failed device, remove the hard drive and have it destroyed. In Bloomington, IU Surplus Stores will shred your hard drive or cell phone.
Learn how IU-owned computers and devices can be reused or recycled.
If you have questions about sustainable computing, contact greenit@iu.edu.
Get more information about disposing of personal electronics >>
Instructors: want a Boost for your students?
Assignment reminder app to be part of pilot study.
The biggest predictor of student success is timely submission of assignments, but with students completing more assignments than ever before, it can be difficult to keep track of due dates.
Boost, a mobile app developed at IU, reminds students about upcoming Canvas assignments as those due dates approach. A pilot study of Boost is expected on all IU campuses in Spring 2019.
Opt in to Boost for your courses >>
Faculty: prepare for spring assignments with Pressbooks
Create and publish texts in multiple formats. 
Looking for a way to add something new to your spring courses? With Pressbooks, students, faculty, and staff can compose and publish content in a variety of digital formats alone or collaboratively for consumption across desktop, mobile, and eReader devices.
This spring, consider authoring or assigning interactive study guides and eTexts, student writing projects, open educational resources (OER), and more in Pressbooks.
Get started with Pressbooks at IU >>
More IT News and Events