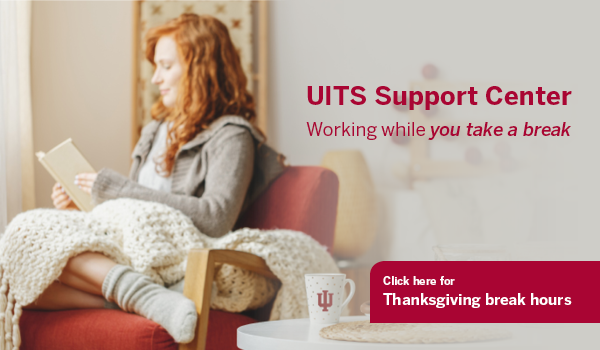 IU, industry leaders partner to power the fastest-ever research and education network
Monon400 network currently making its debut at computing conference in Dallas.
The Monon400, an 800-gigabits-per-second high-speed network operating over 400G channels, is powered through a collaboration between IU network engineers and partners Ciena, Internet2, and ESnet. With a speed four times faster than its predecessor, Monon100, the network can transfer a 4K resolution movie in about one second.
Monon400 will be beneficial to the research and education community, making it possible to share massive amounts of data created by gene sequencers, powerful microscopes, and the Large Hadron Collider at high speeds.
CEWiT faculty lunch panel: "How to Say No"
Sign up now to attend the November 16 event.
Faculty members are invited to a luncheon hosted by Faculty Women in STEMM (W-STEMM), a new group created by the Center of Excellence for Women in Technology (CEWiT). Following the lunch, faculty panelists will present a short panel on "How to Say No." Panelists include:
Nikki Pohl, professor of chemistry and W-STEMM chair
Amanda Diekman, professor of psychological and brain sciences
Eileen Friel, associate dean for natural and mathematical sciences and research and professor of astronomy
Kimberly Geeslin, associate vice provost for faculty and academic affairs and professor of Spanish and Portuguese
When: November 16, 12:30-2pm
Where: President's Room in the University Club, Indiana Memorial Union
Seating is limited—RSVP today >>
November 28 is GIS Day at IU
It's the 20th anniversary of the worldwide event celebrating GIS technology.
Geographic Information Systems (GIS) connects people with the geointelligence they need to work more efficiently and make better decisions.
At IU's GIS Day, you can meet GIS professionals, get training on GIS tools and topics, and check out 3D visualizations, earthquake models, and interactive maps. Other booths and activities include:
Training, certification, and career opportunities in GIS
An augmented reality sandbox from the Indiana Geological Survey
The award-winning touch display IndianaMap
Bloomington and Monroe County GIS data and imagery
Networking with GIS professionals
Elaine Guidero, of the U.S. Geological Survey, will be the keynote speaker. Her address will take place during lunch, 12-1pm. Please RSVP to theward@indiana.edu if you plan to attend the address.
When: November 28, 1-4pm
Where: Herman B Wells Library lobby, IU Bloomington
SICE professor awarded grant to study spread of online misinformation
Funding is endowed by the founder of Craigslist. 
Craig Newmark Philanthropies, endowed by the Craigslist founder, has awarded a grant to Filippo Menczer, professor of computer science and informatics at the School of Informatics, Computing, and Engineering (SICE). The grant will fund two projects aimed at helping journalists curb the spread of online information.
Menczer and his group plan to use part of the grant to continue to develop Hoaxy, a web tool that tracks how misinformation spreads on Twitter by monitoring sources that post misleading or biased information. They hope to make Hoaxy more usable for journalists and the general public.
Read more about the grant and Menczer's projects >>
Request a session: Digital Security for Students
Get a session on your spring schedule today.
You probably already know that IT Training provides custom, instructor-led sessions for IU groups and classes of 10 or more. But did you also know that they have a presentation focusing on Digital Security for Students?
The session focuses on:
Threats to your personal information (email phishing, etc.)
Ways mobile applications can be used to cause harm
How to protect yourself on a range of devices
Understanding what "anonymous" really means on the web
Start planning for your spring class or program—IT Training can come directly to you at IU Bloomington or IUPUI, or you can join via web conference from the regional campuses.
Get more information or request this session >>
IT Pros: be aware of these changes to Pulse Secure
New VPN client will affect all remote users. 
If you use Pulse Secure, IU's recommended SSL VPN client, as of today, November 14, you'll be required to use a new Pulse Secure client to connect to new SSL VPN hardware. The new client is available through IUware.
If you haven't installed the client already, you will be prompted to download it on your next attempt to connect to Pulse Secure. The download will take about 30 seconds.
Questions? Contact the UITS Tier 2 Support team at sct2@iu.edu.
Find out how to connect to Pulse Secure >>
More IT News and Events