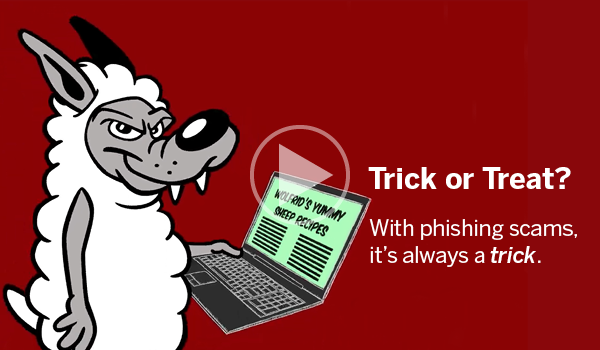 Get help for horrifying technology troubles
The UITS Support Center can rescue you from tech terrors.
A hard drive crash, a computer virus, a software bug—any one of these issues could cause screams of panic. But fear not! The UITS Support Centers are prepared to slay the monsters wreaking havoc on your machines.
Contact your campus Support Center by phone, email, or in person—to get the most efficient assistance, make sure you're prepared with details about your scary situation.
Take a crash course in Excel
Weekend workshop open to all IU Bloomington students.
No matter what your major, you're likely to need spreadsheet skills to break into the job market. Basic tech skills are a requirement for a majority of jobs, so why not get ahead of the game?
The Center of Excellence for Women in Technology (CEWiT) and UITS IT Training are teaming up to offer an Accelerator Crash Course in Microsoft Excel. Topics covered will include:
Introduction of key terms and features
Creating tables
Working with key chart types
Using macros
Class size is limited to 20 students and applications must be received by midnight on November 11.
When: December 1, 9:00am-4:00pm
Where: Wells Library, W144
IU strengthens its commitment to secure campus networking
University is the second higher education institution to earn MANRS membership.
Indiana University has been granted membership in the Mutually Agreed Norms for Routing Security (MANRS) initiative, joining an exclusive group of internet service providers including Comcast and Microsoft.
As a MANRS member, IU campus networks infrastructure must follow rules established to reduce routing security threats and create good network routing practice, including:
Filtering: prevents propagation of incorrect routing information
Anti-spoofing: prevents traffic with spoofed source IP addresses
Coordination: facilitates global operational communication and coordination between network operators
Global validation: facilitates validation of routing information on a global scale
Find out more about IU's involvement with the MANRS initiative >>
CACR Speaker Series: Wafaa Mamilli
Chief information security officer at Eli Lilly and Company to speak in November. 
The Center for Applied Cybersecurity Research (CACR) Speaker Series features cybersecurity experts from across the nation, sharing their current research and real-world experiences.
On November 15, Wafaa Mamilli, vice president and chief information security officer at Eli Lilly, will speak at the IU Maurer School of Law, co-hosted with the Kelley School of Business. Mamilli is a member of several cybersecurity boards, including the National Health Information Sharing and Analysis Center (NH-ISAC) board of directors and the Executive Women's Forum on Information Security, Risk Management, and Privacy (EWF) board of advisors.
Come hear the talk in person, or log in to the live stream on Zoom.
When: November 15, 12:00-1:00pm
Where: IU Maurer School of Law, Room 335
Subscribe to receive updates about the CACR Speaker Series >>
November 1: IT Pro Water Cooler meeting
IU Libraries Moving Image Archive digitizes important recordings
Project honors the 80th birthday of the International Federation of Film Archives. 
The IU Libraries Moving Image Archive (IULMIA) recently collaborated with the International Federation of Film Archives (FIAF) to digitize audio recordings of FIAF meetings. The 648 audio tapes were from 1975-2006 on 1/4" open reel and cassette tapes.
The digitized recordings, which serve as a documentary source for the history of the FIAF and the global film archive movement, are now stored in IU's dual geographic location data storage repositories. Copies of the files are also archived at the FIAF Secretariat in Brussels, Belgium.
Recordings over 25 years old can be accessed online via their own page in the IULMIA or the FIAF archival documents page.
Learn more about the collaboration between IULMIA and FIAF >>
More IT News and Events