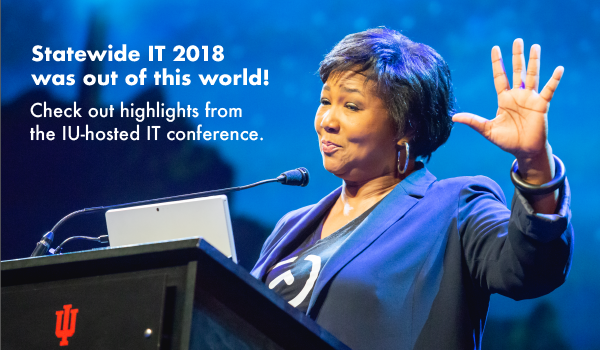 Employment scam targets IU students, alumni
Beware job offers involving certified checks.
Be on the lookout for emails with the subject line "Part-time job offer" or "IU paid job offer." IU students and alumni are being targeted by scammers offering part-time work with high wages.
Respondents are asked to provide information like phone numbers, mailing addresses, gender, and date of birth. They also receive a "certified check" to deposit as an advance, and then are asked to send a personal check to receive supplies. The certified check is phony and will bounce, but not before the respondent's check has been cashed.
The following tips will help determine if an email is part of this scam:
The email comes from a Gmail or other public mail account, rather than a company email server.
It claims to have gotten your name from the school database or directory—IU doesn't provide such a thing.
It asks you to deposit a check for work you haven't done.
The salary offered is high for the type of work being done.
Remember, if an offer looks too good to be true, it's probably a scam. Find tips and strategies for avoiding email scams at Phishing.iu.edu.
If you receive an employment scam email, forward it to your campus Career Services Office with full headers.
Find out how to view and send full headers in the Knowledge Base >>
Free wireless internet for IU campus visitors
AT&T wireless service to be decommissioned on October 31.
Beginning October 18, visitors on all IU campuses can use a new, free IU Guest wireless service to connect to the internet.
IU students, faculty, staff, and affiliates should continue to use IU Secure for on-campus wireless internet connections. IU Secure uses encryption; IU Guest does not.
Note: IU Guest wireless is not available in the IU Bloomington Halls of Residence except in select common areas.
Updated email safety tips and tools on Phishing.iu.edu
New tools make it easier to spot phishing email scams.
Phishers mimic trusted email senders to trick you into giving up private information or taking risky actions. Even with IU's sophisticated security measures, YOU are still the best defense against scammers. 
October is National Cybersecurity Awareness Month—a great time to brush up on all the ways you can "Think before you click." Find plenty of tips, strategies, and training opportunities on Phishing.iu.edu, plus new tools including:
Note: Phishing.iu.edu links to the IU Security Center for managing email safety tools.
Check out Phishing.iu.edu to find out more >>
Access research supercomputing at IU with ease
HPC everywhere portal provides web-based access. 
A new web application called HPC everywhere will make IU high performance computing resources more accessible to researchers and scientists. 
The following HPC tools are accessible through the HPC everywhere beta portal:
Pathfinder—determine which IU research supercomputer best suits your project and level of HPC experience
HPC@IU—learn more about IU supercomputers and view status of each compute cluster; must log into CAS to move beyond the first tab
MyHPC—monitor the status of your jobs
Wait-time visualizer—shows available resources for help minimizing wait times for your jobs
Script generator—creates a batch job script that will run on an IU research supercomputer
HPC everywhere also links to external tools, including Access Management, Globus Online, and Status.IU.
Find out more about the features of HPC everywhere >>
Students: apply for a seat at the CACR Security Matters Cybercamp
EdCert course registration deadlines approaching
Classes for IT Professionals are starting soon. 
The IT Community Partnerships EdCert program offers advanced technical training to the IU community. With workshops for specialized computing skills and professional exam certification prep, EdCert is strengthening IU's technical knowledge infrastructure.
Upcoming courses include:
Courses meet daily from 9am-4pm, online from your own workstation or in person in Indianapolis (ICTC Room 125).
Learn more and get descriptions of each course >>
More IT News and Events