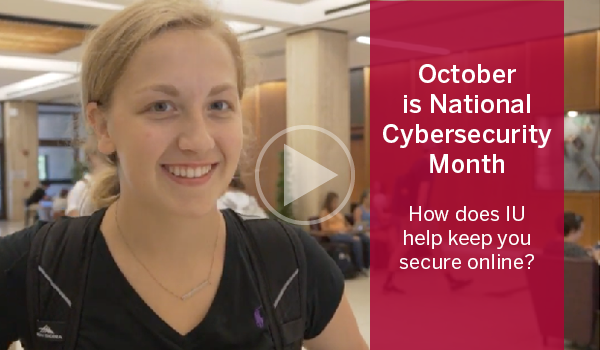 The Idea Garden opens today (Oct. 3) in IUPUI's Hine Hall
Students, faculty, staff encouraged to grow concepts in high-tech creative space.
The Idea Garden at IUPUI celebrates its grand opening today (Oct. 3). Located in Hine Hall, room IP106, the Idea Garden is a space where IUPUI students, staff, and faculty can find inspiration to create the next "big idea" and learn from Indiana's growing tech community.
Students can join the celebration from 12-4pm—stop in to check out the tech, grab a snack, and mingle. Faculty, staff, and community time is from 4-8pm, with plenty of time to browse, network, and nosh.
The Idea Garden houses cutting-edge technology for personal and professional growth, including:
HTC Vive virtual reality headsets
Dell Canvas 27" display tablets
Surface Studio 28" all-in-one display tablets
Liquid-cooled, high-performance workstations
Lulzbot 3D printers
New Security Center helps keep your information safer than ever
Manage your security settings in one location.
Recently, UITS created a Security Center with features enabling you to better protect yourself and your private information. It provides a central location for accessing and maintaining security settings for your IU accounts.
New security features include:
Passphrase recovery email—add or manage an email address to recover your passphrase for your personal account.
External email flagging—ward off phishing attempts by selecting an option for notification of emails received from non-IU senders.
You'll also be able to access these Security Center features: 
Two-Step Login (Duo)—redesigned to make managing your devices and settings easier.
Third-party access (students only)—displays information about who has access to account information like schedules, grades, and bursar bills.
Check out the new Security Center >>
Dr. Mae Jemison, first woman of color to go into space, to speak in Bloomington
Former NASA astronaut to deliver conference keynote on Oct. 16.
IU welcomes all, at no cost and with no registration requirement, to the opening keynotes at its annual tech conference, Statewide IT.
The keynotes take place Tuesday, October 16, in the IU Auditorium on the Bloomington campus:
At 9am, "The Smart Machine and Me" will feature VP for IT and CIO Brad Wheeler and IU VP for Research Fred Cate digging into how technologies like machine learning and artificial intelligence affect us as individuals—both in the workplace and in our everyday lives.
At 10:45, Dr. Mae Jemison will take the stage. Renowned as the first woman of color to go into space, Jemison will speak on the importance of science, technology, engineering, and math (STEM). She served six years as a NASA astronaut and currently leads 100 Year Starship, an initiative to assure human space travel to another star is possible within the next 100 years.
Learn more about the Statewide IT conference >>
ITLC Speaker Series: Leadership Reimagined
October 8 event available to all IU campuses. 
In broad terms, leadership requires the ability to provide direction and influence others. When working with smaller groups, it's equally important to build trust and facilitate open communication. And both approaches succeed through self-awareness and strong interpersonal skills.
Join the IT Leadership Community and Dr. Jan Hillier, clinical associate professor of management at the Kelley School of Business for a discussion about moving effectively from large to small groups, and the relationship between leaders and followers.
The Speaker Series takes place on October 8, 2-3pm ET, in the following locations:
IU Bloomington: CIB Wrubel Commons
IUE: Whitewater 119 (WZ 119)
IUK: Cole Community Room in the Library Building
IUN: HH105
IUPUC: LC1512
IUPUI: ICTC IT329
IUS: Knobview 014-E
IUSB: NS0049H in Northside Hall
RSVP to attend the event >>
IU Bloomington faculty: We bring tech to you
Program will provide one-on-one consultation. 
UITS is piloting a new one-on-one, in-person support consultation service, Tech2U, for faculty on the Bloomington campus.
Get help with Adobe Acrobat, Google@IU tools, Box, social media applications, and more.
Get help with configuring applications like Adobe Creative Cloud or IUanyWare. 
Request a consultation. UITS will schedule a session at a time and on-campus location of your choosing.
After the initial phase, UITS will survey participating faculty and determine whether to continue, expand, or discontinue the service
Find out more and request a session >>
Scientific Visualization Workshop Series
Register for upcoming events or view recordings of a talk. 
This weekly series, presented by the IU Advanced Visualization Lab and UITS Research Technologies, investigates the principles of perception. Moderated by William R. Sherman, the series focuses on modern tools for analyzing simulated and observed scientific data.
Upcoming presentations include:
10/3 (today): Visualizing lidar datasets using QGIS on RED
10/10: Augmented reality and IoT visualizations
10/17: Volume rendering visualizations
When: Wednesdays, 4-5:15pm
Where: Visualization Lab, Luddy Hall 4012
Want to catch up on a previous presentation? Past workshops are available online.
Attend an upcoming event >>
More IT News and Events