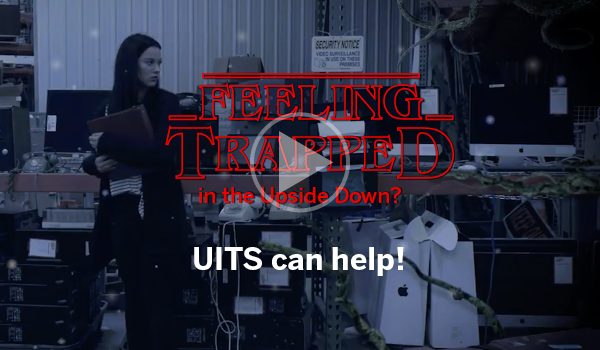 Why are you getting this newsletter?
All the latest news on IT resources, delivered right to your inbox.
The UITS Monitor is IU's official correspondence to notify faculty, staff, and students on all IU campuses about available IT resources. Every other week, it will arrive in your inbox full of information about IT services and support available to you, as well as other notable IU news.
Other ways to get IT news:
UITS IT Support Centers are here for you
Add tech skills to your learning plan this fall
At IU, supercomputing is for everyone
UITS Research Technologies' series takes the fear out of high performance computing.
If the idea of logging in to a supercomputer for the first time is daunting, the Supercomputing for Everyone Series offered by UITS Research Technologies may be just what you're looking for. The workshops are now open for registration and cover topics including:
Workshops are taught by personnel from Research Technologies, and are offered at the IU Bloomington and IUPUI campuses
Register now for the Supercomputing for Everyone Series >>
IT Leadership Community Technologist Recognition awards
Nominate your favorite IT all-star! 
Know an IT employee who goes above and beyond, solves your tech issues, and is an all-around great person? The IT Leadership Community (ITLC) wants to know, and better yet, wants to give that person a Technologist Recognition award! 
Awards are open to employees in IT at Indiana University in any school or department—submit nominations by September 7 in these categories:
Winners will be recognized at a formal awards ceremony at the IU Statewide IT Conference in October. For questions about the process or the awards, contact Nathan Byrer (nsbyrer@iu.edu)
Women interested in tech: connect with CEWiT this semester
You need tech skills, and technology needs you. 
The mission of IU's Center of Excellence for Women in Technology (CEWiT) is to "inspire, encourage, and educate IU women in every major to develop and use tech skills to empower and enhance career success."
When you connect with CEWiT, you can build or enhance your tech skills in a number of ways:
CEWiT wants to connect and inspire a community of tech-savvy women. If you'd like to be one of those women, contact cewit@indiana.edu or add yourself to the CEWiT mailing list.
Connect with CEWiT >>
More IT news and events