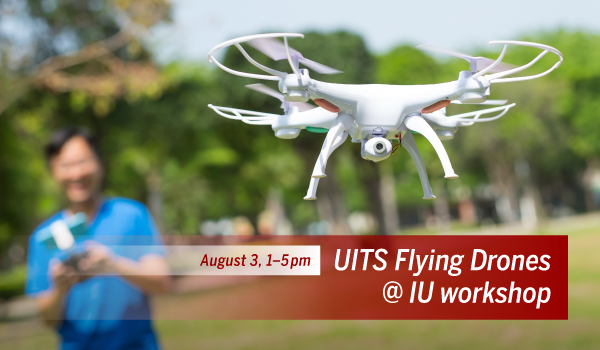 Check out the IT Resource Fair on August 7
Bloomington event is open to all faculty and staff. 
Want to know more about the latest technology available to you at IU? At the IT Resource Fair, you can get up to speed on online teaching, accessibility, cloud storage, and security, along with other topics, including:
Videoconferencing with Zoom or Skype for Business
eTexts
Capturing video with Kaltura
IU Libraries services
IU Radio and TV services
The Center of Excellence for Women in Technology (CEWiT)
When: August 7, 11am-2pm
Where: Alumni Hall, Indiana Memorial Union, IU Bloomington
IUanyWare user profile reset coming in August
UITS maintenance will optimize IUanyWare performance.
UITS will reset all IUanyWare user profiles on August 9. When you log in to IUanyWare for the first time after the maintenance:
IUanyWare may take slightly longer to load while it rebuilds your user profile—once that process is complete, IUanyWare should load faster than it did before maintenance.
You'll need to reconfigure personal settings for some of the applications you use. 
This maintenance will improve application performance, printing capabilities, and mapping of your IU Cloud Storage resources.
Learn more about the IUanyWare user profile reset >>
Hoosier to Hoosier community sale with UITS Cares
Volunteering serves the community and local non-profits.
The Hoosier to Hoosier (H2H) community sale needs volunteers to help pick up, sort, and prepare items for the big day, Saturday, August 18. If manual labor isn't your thing, there are plenty of other volunteer opportunities to prepare for the sale.
For each volunteer hour you work with H2H, a local non-profit of your choosing will receive $10 to support their cause. This year's groups include:
The Bloomington Animal Shelter
Bleeding Heartland Roller Derby Team
The Bloomington Bike Project
Habitat for Humanity at IU
Kappa Tau Omega
Cutters Soccer (If you're a Cutters parent, H2H hours count toward your team's volunteer requirement) 
Find out more about service opportunities with UITS Cares >>
IT Pros: register now for EdCert fall 2018 courses
First fall session starts July 30.
If you're an IT Pro looking to advance your skills, check out the EdCert course offerings for this fall. EdCert provides workshops for specialized computing skills and courses to prepare you for professional certification exams.
The first fall course, Installing and Configuring Windows 10, will be held July 30-August 3, 9am-4pm. Take the class in person in Indianapolis (ICTC Room 125) or remotely from your own workstation. You must register by today, July 25.
Registration is also open for IT Community Partnerships' other fall 2018 EdCert courses:
CompTIA CySA+ [Cybersecurity Analyst+]
Networking with Windows Server 2016
CompTIA Server+
Administering a SQL Database Infrastructure
Identity with Windows Server 2016
CompTIA PenTest+ [Penetration Testing]
Advanced Automated Administration with Windows PowerShell
ISC2 CISSP [Certified Information Systems Security Professional]
CASP [CompTIA Advanced Security Practitioner]
Upgrading Your Skills to MCSA: Windows Server 2016 
Read course descriptions and register >>
NCGAS at IU seeks participants for NSF workshop
Top Hat deal makes the technology no-cost for all
License agreement begins in fall 2018.  
A new enterprise license agreement between IU and student response system Top Hat will provide students with access to best-in-class student engagement tools that promote active learning with interactive slides, graded questions, customized content, videos, discussions, and polls.
The savings for students will be significant, with Top Hat Classroom serving as IU's preferred student engagement tool for all eight campuses. In the 2017-2018 academic year, students paid license fees for any classes using the tool. 
The new license will provide all students at Indiana University with access to Top Hat Classroom. Additional Top Hat tools, including Attendance and Attention, will become available in fall 2018.
Get started with Top Hat >>
More IT news and events