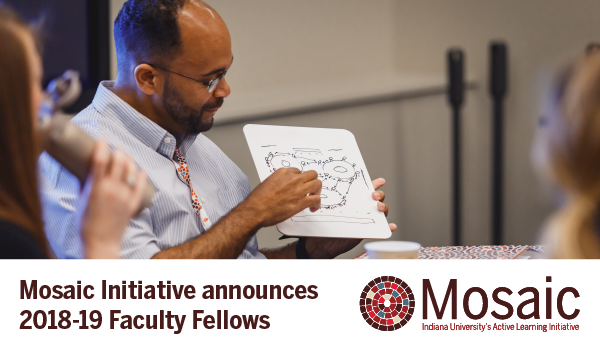 TODAY (6/13) at 3:30pm: SICE Colloquium Series in Luddy Hall
IARPA Deputy Director to speak about research innovations in the Intelligence Community.
The School of Informatics, Computing, and Engineering welcomes Dr. Stacey Dixon, deputy director of Intelligence Advanced Research Projects Activity (IARPA), for her talk, "Fostering Innovations in the Intelligence Community."
The IARPA is a government organization in the Office of the Director of National Intelligence, led by a distinguished group of scientists and researchers. IARPA uses high-risk, high-payoff research programs to deliver innovation to elements of the Intelligence Community working on some of the hardest problems that can be solved with science and technology. With no in-house research, IARPA relies on academic and industry teams to achieve its goals.
Learn more about IARPA's mission to problem-solve in new ways and redefine current practices, as well as its research practices and ways you can get involved.
When: TODAY, June 13, 3:30pm
Where: Luddy Hall, Room 0117
Trust the footer
New safety feature will appear on official IU email communications.
Email scams often prey on our trust in institutions like IU by impersonating them. That's why we use security features like digital signatures for all official IU email communications.
Now UITS and IU Communications have introduced the IU Trusted Footer, an additional confirmation that the emails you receive are genuinely from IU—and indeed intended for you:
This message is intended for [first name] [last name] ([email address]). Learn why we're including this: go.iu.edu/emailsafety.
You'll find it at the bottom of official IU email communications—like this very issue of the Monitor!
All IU business units using Salesforce Marketing Cloud for mass email should implement the IU Trusted Footer for every official IU email send.
To learn more about IU's mass email policies, visit kb.iu.edu/d/aqjz.
Read more about incorporating the Trusted Footer in your communications >>
Sign up now for CACR's cybersecurity camp
The two-day camp is open to high school students.
Students interested in computers and security will find a lot to love at the Security Matters Cybercamp, hosted by the IU Center for Applied Cybersecurity Research (CACR).
Over two days, campers participate in sessions on network security, cryptography, and data forensics, plus hands-on activities and games, and a tour of the IU Data Center, home to the supercomputer Big Red II.
When: June 21-22, 9—5pm
Where: IU Cyberinfrastructure Building (CIB), 2709 E. 10th St., Bloomington
Cost: $100 (includes breakfast and lunch both days)
Register today! >>
Employees: Project Recharge introduces Chrome River
Get training on the new travel and expense system
In early July, IU will be replacing the existing travel and expense module with a new one known as Chrome River, which will be used for travel reimbursement as well as Meeting Card and P-Card reconciliation. The new system will be more intuitive, user focused, and mobile friendly.
Register now for online and in-person training sessions:
o    Bloomington and regional campus registration
Training videos will also be available at a later date for on-demand instruction.
Find out more about Project Recharge >>
Ready, Set, Robots!
No-cost tech summer camp for students in grades 7-12.
Is your teen looking for something to do this summer? Interested in technology? Sign them up for Ready, Set, Robots!, a free summer program hosted by UITS Research Technologies.
Over two days, participants work with researchers and tech professionals from around IU to learn skills needed to program LEGO® Mindstorms® robots, then show off their skills in an exciting Robot Grand Challenge.
Spots are still available in the beginner and advanced camps—sign up today!
When: June 28-29, 9am-3:30pm (Beginner camp)
             July 19-20, 9am-3:30pm (Advanced camp)
Where: Wrubel Commons (CIB), 2709 E. 10th St., Bloomington
Learn more and register >>
American Radio Relay League Field Day
Check out the 24-hour annual event. 
Every year, thousands of amateur radio enthusiasts, or "hams," come together for the American Radio Relay League (ARRL) Field Day. For participants, it's a picnic, a campout, a chance to practice for emergencies, and a contest, but most of all, it's fun!
The event is open to ham radio operators and the general public. If you're interested in learning more about amateur radio, or you'd just like to drop by the 24-hour event, come check out what the K9IU radio club has going on!
When: June 23-24
Where: Wrubel Computing Center field
Learn more about the ARRL Field Day event >>
More IT news and events