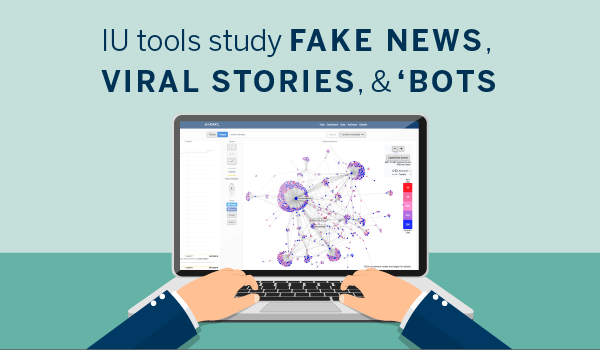 It's the final countdown
If you don't have your CrimsonCard by June 30, you will be locked out.
We're serious.
On June 30, 2018, all old IU IDs on all campuses will be deactivated and will no longer function. This means you cannot use them to access your building, and you cannot use them as a form of payment. They simply will not work.
The longer you wait to get your CrimsonCard, the longer the line to get a CrimsonCard will be. The first one won't cost you anything, so go get it.
Send your kid to CACR's cybersecurity camp
FBI computer scientist Jonathan Sweeny to give keynote speech.
Do you know a high school student who's into computers and security? Send them to Security Matters Cybercamp, hosted by the IU Center for Applied Cybersecurity Research (CACR)!
During the two-day camp, students will learn how to be a cyber sleuth, with sessions on network security, cryptography, and data forensics, as well as hands-on activities and games. They'll also tour the IU Data Center, home to the supercomputer Big Red II.
When: June 21-22, 9-5p
Where: IU Cyberinfrastructure Building (CIB)
Cost: $100 (includes breakfast and lunch)
Learn more and register >>
IU Expand offering online Data Science Essentials this summer
Class package available to students, staff, and general public.
Looking to improve your data science skills? Whether it's for your own enrichment or to fulfill prerequisites for the School of Informatics, Computing, and Engineering (SICE), you'll appreciate the ability to work through the courses at your own pace and on your own time.
The essentials package includes the following non-credit mini-courses:
Intro to R
Basics of Python
Intro to SQL
Basics of Java
Intro to C++
MongoDB
Linear Algebra
Beware of a new phishing scam
GDPR regulations create opportunity for new criminal activity.
As the General Data Protection Regulation (GDPR) takes effect in the European Union, companies are scrambling to make sure their communications are compliant. That means notifying customers through email and providing a link to update communications preferences.
To no one's surprise, cybercriminals are seizing the opportunity to simulate those emails to steal information or install malware. In addition to financial institutions, crooks are targeting Apple, the Ford Foundation, and AirBnB.
With this in mind, stay vigilant about hovering over links, inspecting "From" fields, visiting homepages instead of clicking links, and maintaining a healthy skepticism about actions requested in email.
Learn more about protecting yourself from GDPR phishing scams >>
Skill up this summer with IT Training
Online or in person, it's a great time to learn.
At the lake, in the mountains, or in the comfort of your air-conditioned home, summer is a perfect time to add to or brush up on your tech skills. Lucky for you, UITS IT Training makes it easy to get educated.
Want to work at your own pace? Try:
IT Training online courses—five series on essential tech skills, offered at no cost for IU faculty, staff, and students.
Pluralsight subscription—video-based courses on intermediate to advanced technical and design topics. Year-long subscriptions are available to IU users at a major discount.
Want to get out of the house?
Check out more IT Training education options >>
A reminder about appropriate use of IT resources
Cryptocurrency mining is not incidental personal use. 
With cryptocurrency like Bitcoin, Ripple, and Ethereum making headlines, the university would like to remind the IU community that using IU's technology resources for personal private gain (like mining cryptocurrency) is not an appropriate and accepted use.
If you have questions about Appropriate Use of Information Technology Resources (Policy IT-01) or the Acceptable Use Agreement, please direct them to uipo@iu.edu.
Read Policy IT-01 >>
More IT news and events