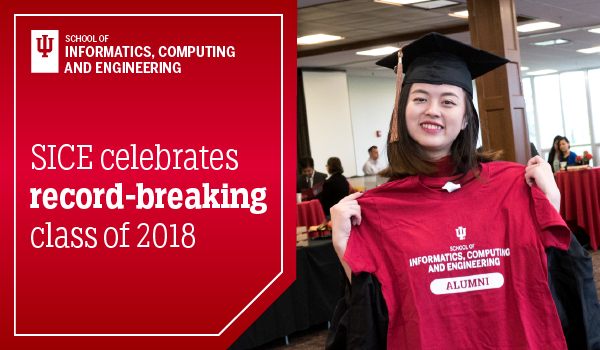 'Transgender 101: Why two are definitely not enough (and why it matters)'
May 22 presentation explores the transgender and gender nonbinary experience.
Now that transgender people are being open about who they are, our society is undergoing a major cultural shift: in K-12 schools, in higher education, and in the workplace.
The IT Leadership Community, IU Women in Technology (IUWIT) and UITS HR are sponsoring the presentation, "Transgender 101: Why two are definitely not enough (and why it matters)" by Dr. Kand McQueen. A senior lecturer for the IU School of Public and Environmental Affairs, McQueen is also a national keynote speaker whose goal is to educate the world about those who fall outside the binary categories of male and female.
When: Tuesday, May 22, from 2-3pm ET
Where: CIB Wrubel Lobby, also available via live stream on all other IU campuses
Got knowledge to share? CEWiT is seeking mentors
Center of Excellence for Women in Technology is accepting student, alumnae applicants for its eMentor program.
"This mentorship program is great. I'm going through a very critical part of my undergraduate career now and our last conversation has enabled me to gain the mental strength I need to get through this time."
So writes a satisfied participant in CEWiT's 2017-18 pilot eMentor. In its first year, CEWiT matched 119 students with experienced mentors. Thanks to the program's initial success, CEWiT is currently recruiting current IU women students and alumnae to participate in the program for the 2018-19 academic year. 
The program matches female students with trained IU alumnae eMentors based on professional aspirations, common interests, and background. Mentors and mentees meet virtually at least once per month to share, discuss, and connect.
Learn more >>
Webserve users: deadline for Legacy MySQL migration is May 31
Site migration before the deadline is strongly encouraged.
Do you use Webserve with Legacy MySQL? The open migration window will end on May 31 and Legacy MySQL and MySQL-Test servers will be disabled on June 1. Due to the possible complexity of the task, the Database Administration and Web Services Support teams strongly encourage migration well before the deadline.
Use the steps found here to help find code references in your site to the Legacy MySQL for Webserve service, then review the files for updates needed to successfully migrate to the new MySQL environment.
Need help? Contact the Web Services Support team at sct2@iu.edu or by phone at 812-856-7282 or 317-278-7282. You'll also find helpful articles in the Knowledge Base.
Learn more about the new MySQL for Webserve at IU >>
IU REDCap gears up to do the two-step (login, that is)
Your research data will be even more secure starting July 29.
Attention, IU Research Electronic Data Capture (REDCap) users: Starting July 29, the tool will be updated to require two-step login, also referred to as two-factor authentication. The new login process adds an extra layer of security to the system. Bonus: Two-factor authentication should be familiar to you since you already log in to most IU systems via Two-Step Login.
At Indiana University, REDCap is one of several research-related collaboration tools offered by the Indiana Clinical and Translational Sciences Institute.
Learn more >>
IU Bloomington faculty: We bring tech to you
Program will provide one-on-one consultation. 
UITS is testing out a new one-on-one, in-person support consultation service, Tech2U, for faculty on the Bloomington campus.
Get help with Adobe Acrobat, Google@IU tools, Box, social media applications, and more.
Get help with configuring applications like Adobe Creative Cloud or IUanyWare. 
Request a consultation. UITS will schedule a session at a time and on-campus location of your choosing.
After the initial phase, UITS will survey participating faculty and determine whether to continue, expand, or discontinue the service.
Find out more and request a session >>
SigmaPlot and Minitab software being retired
Titles will no longer be sold to IU students, faculty, or staff.
Attention, users of SigmaPlot and Minitab software—the Research Analytics (RA) team in UITS has made the decision to discontinue licensing and distribution of the two titles. After July 1, 2018, RA will no longer resell the licenses, and will only provide support and consultation for the titles. Please note this means that Minitab will no longer be available in STC labs or via IUanyWare after July 1, 2018.
The software can still be acquired directly through the vendors. Users interested in migrating class materials or research workflows to new software can contact the RA team at researchanalytics@iu.edu. 
Learn more about the software retirement >>
More IT news and events