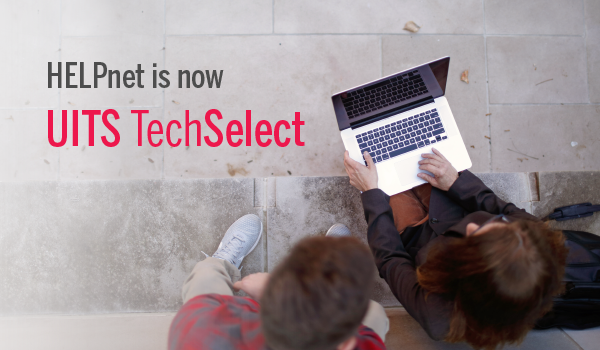 IU Bloomington faculty: we bring tech to you
Program will provide one-on-one consultation. 
UITS is testing out a new one-on-one, in-person support consultation service, Tech2U, for faculty on the Bloomington campus.
Get help with Adobe Acrobat, Google@IU tools, Box, social media applications, and more.
Get help with configuring applications like Adobe Creative Cloud or IUanyWare. 
Request a consultation. UITS will schedule a session at a time and on-campus location of your choosing.
After the initial phase, UITS will survey participating faculty and determine whether to continue, expand, or discontinue the service.
Time to get your Crimson Card
Deadline to upgrade is June 30. 
It's time to upgrade to the new CrimsonCard! As of June 30, all IU legacy cards will be deactivated, and all functions—including access and payment services—will no longer work.
Affected cards include:
CampusAccess
IUPUC ID card
Jagtag
WolfCard
UCard
CougarCard
RedHawkCard
IU South Bend Card
Upgrading is simple: bring your current campus ID or a valid, government-issued photo ID to any campus CrimsonCard office. They'll take your picture and you'll receive your new CrimsonCard at no cost.
Questions? Contact crimsoncard@iu.edu or 317-274-0400.
What can CrimsonCard do for you? >>
Rivet Town Hall with the User Experience Office
Come learn about a new software design system.
What's Rivet, you ask? It's a new design system for building more usable and consistent software interfaces, brought to you by IU's User Experience Office (UXO).
UXO is always working toward making it easier to design and develop great experiences for users across all UITS applications. When you come to the town hall meeting, they'll be happy to tell you all about the latest developments, how to get started with Rivet, and how to get help. Plus, there will be refreshments!
When: April 25, 2:30pm
Where: IU Bloomington, CIB, Wrubel Commons
             Live stream available via Zoom
May 5: Carry-in Consulting at IU Bloomington to be discontinued
UITS standard walk-in service at the Wells Library is not affected.
Carry-in Consulting is a fee-based service at the Wells Library that the UITS Support Center provides to IU Bloomington students, faculty, and staff for personally owned devices (not owned by IU). It provides software consulting including operating system installations, Apple Boot Camp setup, and data backup services. The service is being discontinued May 5. 
If you have hardware problems with a personally owned device, or need data backup or administrator password recovery, contact the manufacturer or a local computer repair store. If it is an IU-owned device, contact your departmental IT Pro.
For operating system issues such as installing Boot Camp or Windows OS reinstallations, UITS is providing self-help resources in the Knowledge Base.
See some alternatives to the IUB Carry-in Consulting service >>
IU's Data Sharing and Handling tool is better than ever
Enhancements remove the guesswork and improve ease of use.
IU employees know that there are plenty of precautions to take when working with institutional data. Now the Data Sharing and Handling (DSH) tool is more user-friendly than ever, making it easier to search, store, and access information.
Here's what's new:
Example-rich search categories: users can see examples of data elements for all subdomain categories prior to making a selection and running a search.
Consolidated results: Users no longer need to run an additional search for each specific type of use—guidance for all uses is returned on the same results page.
New focus on storage results: The guidance relating to storage services has been moved up in the search results to make it easy to find.
Searchable web-based data classification matrix: Users can now search the entire data classification matrix within their browser. A separate spreadsheet file is no longer necessary.
Faster guidance updates: The content provided as guidance by the DSH tool is now managed via WCMS and can be updated more regularly.
Learn even more about the DSH tool >>
Stat/Transfer availability ending July 1
More IT news and events