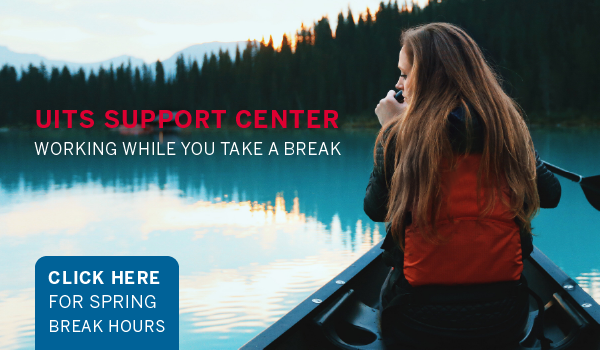 Reminder: Student Umail migration begins March 11
This Sunday, March 11, UITS will begin transferring IU student email from Umail to Gmail at IU.
Traveling for spring break this weekend? Download any essential travel info that you received in email to your phone (hotel reservation, boarding pass, etc.) or access your email via a web browser at umail.iu.edu. If your mail has been migrated, check it at google.iu.edu.
Things to do before March 11
Log into Google at IU

 

and agree to Google's Terms of Service. If you haven't already done so, you'll be prompted to agree immediately after login.

 

You must complete this step before UITS can move your existing messages.
Reduce your mailbox size

 

by deleting large attachments you no longer need. This will make your email transfer go more smoothly.
Accessing your email during the transfer: Once your email migration begins, access your mail using one of the following methods:
After your email is migrated, UITS will send you email instructions with the links you'll need to configure your mobile devices and email clients.
New flat fee eText pricing available through McGraw-Hill
Flat fee pricing saves students money on IU eTexts and digital learning tools.
As part of IU's membership in the Unizin Consortium, a new agreement between Unizin and McGraw-Hill provides students a flat fee of $35 for any McGraw-Hill eText. Digital learning tools like McGraw-Hill Connect are available for $50-60.
Faculty: summer and fall ordering is open now at One.IU. Just search "Textbook Orders (Faculty)" to select an IU eText from more than 30 publishers. Learn more about using eTexts in the IU eTexts Canvas course or contact your campus teaching and learning center for assistance.
Pluralsight subscription price change effective March 1
Rate remains less than half the market price.  
IT Training's partnership with Pluralsight provides modern, video-based training in a broad range of subjects for a steeply discounted annual subscription.
Due to an improved platform and new features, Pluralsight's subscription fee for the IU community has increased slightly.
The IU discounted rate changed to $102/subscription for IU students, faculty, and staff—effective March 1, 2018. This price change applies for all new subscriptions and renewals. 
IT Training's partnership with Pluralsight continues to bring our IU community the lowest possible annual subscription price. (Compare to $299/annual subscription cost for non-IU members.) 
Get started with Pluralsight today! >>
IU contract expands availability of Adobe Creative Cloud software
New agreement gives expanded access to faculty, staff, and students.
Thanks to a new, three-year contract with Adobe, Creative Cloud software has been expanded for faculty, staff, and currently enrolled IU students to include additional applications, storage and online services. Creative Cloud will now be accessed with your IU login.
It only takes a minute to sign up for the full Adobe Creative Cloud, so what are you waiting for? Get creative!
Developers and system administrators: celebrate Docker's fifth birthday!
Eat cake, mingle, and learn new skills at the party.  
Every year, Docker uses its birthday celebration to welcome new users and show gratitude to their community of users. The party is global, but you can join in the fun from Bloomington.
New users are invited to learn the technology through a series of hands-on labs, while Docker veterans act as on-site mentors. Labs at this year's event include:
Docker 101 for Linux users
Docker 101 for Windows users
Kubernetes on Docker for Mac and Docker for Windows
Modernizing Traditional Java Apps
Modernizing Traditional .NET / Windows Apps
Deploying Multi-OS applications with Docker EE
Bring your own laptop, but there's no need to install anything before the party. Come to celebrate and network—and don't worry, there will be cake!
When: March 22, 1:45-5p
Where: Cyberinfrastructure Building (CIB), IU Bloomington
Learn more and RSVP here >>
SigmaPlot and Minitab software being retired
Titles will no longer be sold to IU students, faculty, or staff.
Attention, users of SigmaPlot and Minitab software—the Research Analytics (RA) team in UITS has made the decision to discontinue licensing and distribution of the two titles. After July 1, 2018, RA will no longer resell the licenses, and will only provide support and consultation for the titles. Please note this means that Minitab will no longer be available in STC labs or via IUanyWare after July 1, 2018.
The software can still be acquired directly through the vendors. Users interested in migrating class materials or research workflows to new software can contact the RA team at researchanalytics@iu.edu. 
Learn more about the software retirement >>
More IT news and events