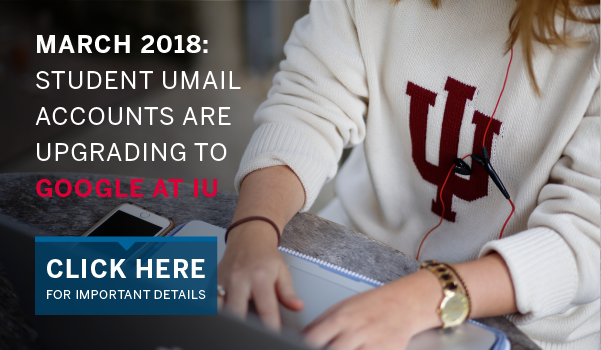 IU expands its relationship with Salesforce.org
New CRM system simplifies communication, recruiting, and admissions.
IU and Salesforce.org are expanding their already-successful partnership to encompass the entire university system. More than 190 departments already use Salesforce Marketing Cloud to interact with students, faculty, staff, and friends of IU.
The expansion will consolidate multiple constituent relationship management (CRM) systems to a single platform, making it easier to communicate with constituents in any location.
Read the official press release about IU and Salesforce.org >>
IT Training on your timeline
Courses available at no cost to IU faculty, staff, and students.
We all want to learn new skills, but it can be tough to fit a class or workshop into a busy schedule. Now you can get the training you need, when you need it with UITS IT Training.
The popular Certificate Series has been re-launched as online self-paced courses. The series covers essential Microsoft Office skills like Excel and Access, plus web creation, coding, and media design skills. Certificates are awarded after the successful completion of a final online exam.
All IT Training Certificate Series courses include
Lessons based on UITS IT Training's award-winning content
Step-by-step instruction
Exercise files to allow you to work along
Instructional videos for reinforcement
Quizzes to check comprehension
Learn more and sign up here >>
Signed, sealed, and delivered--safely
Digital signatures make your email more secure.  
As phishing scams become increasingly sophisticated, you can take steps to protect your IU email account. A digital signature on your email verifies that the message originated from you, and hasn't been altered or sent by an imposter.
You can protect your email with a digital signature in a few easy steps:
Install the certificate in your email client
Renew your certificate when it expires
If you need help creating a digital signature, contact your campus Support Center.
Learn more about securing your email and recognizing digital signatures >>
"Tales of an Accidental Computer Science Professor"
The inaugural IU Women in Cybersecurity talk is on February 8.
The Center of Excellence for Women in Technology (CEWiT) and the IU Center for Applied Cybersecurity Research (CACR) welcome Lorrie Faith Cranor as the speaker for the inaugural IU Women in Cybersecurity talk, "Tales of an Accidental Computer Science Professor."
Cranor, according to her Twitter bio, is a "password researcher and fashion idol. Bad-ass cyberfeminist. Usable privacy & security professor. Quilter. Runs after 3 kids + soccer balls." She's also a professor of computer science and of engineering and public policy at Carnegie Mellon University.
Check out what's sure to be a fascinating conversation about Cranor's path from journalism to fashion design to computer science, and her current focus on usability, privacy, and security.
When: February 8, 12-1pm
Where: IU Bloomington—Maurer Law 335
              IUPUI—ICTC 497
              All campuses—via live stream
UITS Research Technologies' new data research series
Weekly workshops taking place on the IU Bloomington campus.   
Interested in learning more about working with research data? Got an hour to spare? Come check out UITS Research Technologies' weekly workshop series, "Tools and Techniques for Analysis, Management, and Visualization of Research Data."
The workshops meet on Tuesdays from 12-1pm in the Social Science Research Commons Grand Hall (Woodburn Hall 200). Upcoming workshops include:
2/13—Introduction to R for Analysis
2/20—Databases, Enclaves, and Repositories for Research
2/27—Analysis with MATLAB
Check out all of this semester's workshops >>
SigmaPlot and Minitab software being retired
Titles will no longer be sold to IU students, faculty, or staff.
Attention, users of SigmaPlot and Minitab software—the Research Analytics (RA) team in UITS has made the decision to discontinue licensing and distribution of the two titles. After July 1, 2018, RA will no longer resell the licenses, and will only provide support and consultation for the titles.
The software can still be acquired directly through the vendors. People interested in migrating class materials or research workflows to new software can contact the RA team at researchanalytics@iu.edu.
Learn more about the software retirement >>
More IT news and events