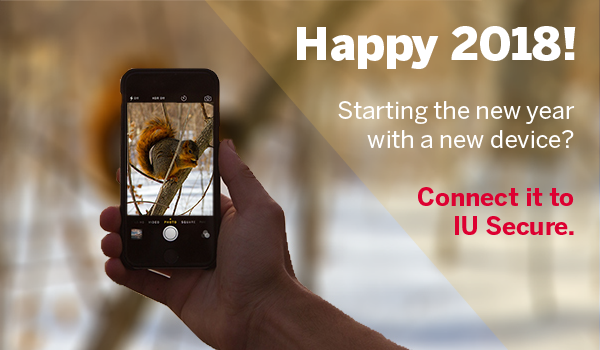 Out with the old tech, in with the new
Use these tips to dispose of your outdated devices
New tech devices in your life? Here's how to get rid of the old ones and minimize your impact on the environment at the same time:
Reuse—extend the life of the device by donating it to an organization or individual that can use it for several more years.
Recycle—steel, gold, silver, aluminum, and copper can be recovered from broken or obsolete devices. And proper recycling protects the environment from lead and mercury dispersal.
Be sure to wipe your personal information from any device that has a memory. If you can't wipe the device, remove the hard drive and have it destroyed (at IU Bloomington, IU Surplus Stores will shred your hard drive or cell phone).
Get more information about where to dispose of personal electronics >>
Quick Check coming to Canvas courses
Tool provides real-time feedback for instructors and students.
In online classes, how can instructors tell if students are grasping the concepts? How can students be sure they're comprehending the subject matter? A new tool, Quick Check, can be used in Canvas to integrate assessments into course content.
Instructors can use Quick Check to provide customizable feedback to students, as well as track the results for a particular student or the entire class. Students have unlimited opportunities to answer the questions, reinforcing their understanding of the material. It's a win-win! 
Register now for the Symposium on Sustainable Development
Day-long discussion is open to the entire campus community.
What is "sustainable development" and how can it be applied to cybersecurity? It's clear that the stability of the digital world is greatly in question. The goal of this symposium is to inform attendees about the challenges and opportunities facing our world.
When: Friday, January 26, starting at 8am
Where: School of Global & International Studies, Auditorium (GA 0001), IU Bloomington
CACR Speaker Series: Building a (cybersecure) Navy
Crane chief engineer to discuss cybersecurity and the U.S. Navy.
Imagine trying to secure a data center installed on a warship that's fighting in a combat zone. Dr. Robert Templeman, chief engineer for cybersecurity at Naval Surface Warfare Center, Crane Division (NSWC Crane), will focus on the cybersecurity challenges the U.S. Navy faces and discuss the work being done to increase security.
When: January 11, 12-1p
Where: IU Bloomington—Maurer Law 335
               IUPUI—ICTC 395
UITS Projects page to be retired
Information will be taken down on January 15. 
After years of dedicated service, the UITS Projects page (and all individual project pages) will begin a well-deserved retirement on January 15, 2018. Updates for project pages are no longer necessary, and new ways to make project information available will be addressed in the near future.
If you have questions about the retirement, contact the Knowledge Management team at kb@iu.edu.
Do you own or manage an IU website, app, or service?
Changes to the Web Site Privacy Notices policy may affect you.
IU's Web Site Privacy Notices Policy (ISPP-24) applies to all content owners and site managers of university sites. It requires notice of privacy practices be given to users through a readily visible link to an accurate privacy notice.
Increased privacy expectations and IU's use of third-party and cloud-based services inspired the following changes:
Privacy notices should now appear on web applications and services as well as websites.
Sites run by University Student Organizations are now considered operating units of IU and will be required to have a privacy notice link. 
More IT news and events