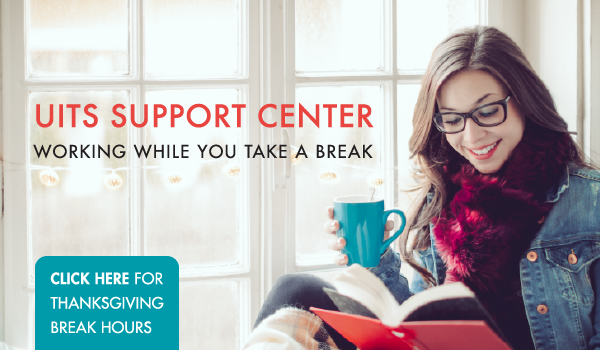 CrimsonCard: your key to campus
What does IU's official photo ID do for you?
You carry your photo ID with you everywhere (hopefully), but do you know about all of its powers? Your CrimsonCard gives you access to secure buildings and dorms, pays for meals on campus and off, checks out library books, and gets you to the gym to work out.
Your CrimsonCard is always working for you—don't leave home without it!
Students: IU Bloomington to offer cybersecurity camp
Limited slots available for the one-day session.
Phishing, hacking, security breaches—it seems like every day our private information is more vulnerable. If you're an IU student interested in learning about how to protect yourself and others, check out the Security Matters Cybercamp, co-hosted by the Center for Applied Cybersecurity Research (CACR) and the Center of Excellence for Women in Technology (CEWiT).
Topics will include:
ethical issues cybersecurity raises
digital forensics
malware protection
basics of phishing and how to avoid being phished
why websites get hacked and how
how computer networks function, how they are secured, and why it matters
cyberdefense—what a professional cybersecurity career looks like
Only 20 seats are available to IU students for the camp, so sign up today! 
When: Saturday, December 2, 10am-5pm
Location: IU Bloomington—Innovation Center, Room 105
IU launches website featuring Orson Welles' personal collection
Faculty Men Allies for Gender Equity workshop
Group works to equip men to serve as effective allies on campus.
Following the success of their first workshop, the CEWiT Male Faculty Advocates will host a second workshop this month.
The interactive men-only faculty workshop equips men to serve as effective allies for gender equity. The session allows participants to learn, ask questions, have candid discussions, and practice skills through scenario-based exercises.
Seating is limited for this workshop on the IU Bloomington campus. 
ITLC book group to focus on how to get what you really, really want
Meetings begin November 9 on all campuses.
The IT Leadership Community book club's latest selection is Ask For It: How Women Can Use Negotiation to Get What They Really Want by Linda Babcock and Sara Laschever.
According to the authors, when you don't ask for what you need in the workplace, you end up suffering financially. Their book features strategies and exercises to increase bargaining power and personal accounts of women using negotiating skills to find career and personal fulfillment. A practical and empowering resource, the book is valuable to anyone—male or female—looking to gain an advantage at the bargaining table.
When: Thursdays, 4-5pm; November 9-December 14 (excluding Thanksgiving)
Location: IU Bloomington, CIB 250a
                IUPUI, ICTC 209
                Remote participation via Zoom
Fast-track program lets students earn two degrees simultaneously
Innovative program supports an improved career path. 
Together, the Indiana University School of Nursing and School of Informatics and Computing at IUPUI are offering students the opportunity to earn a Master of Science in health informatics while earning a bachelor's degree in nursing. The program is designed to be a flexible, affordable option to give students a leg up on their career path.
Through the program, nicknamed the "Four Plus One," students can begin taking graduate-level classes during junior year at an undergraduate tuition rate. The following year, students can take part-time classes while working or apply for assistantships. It will take three additional semesters to complete both degrees.          
More IT news and events