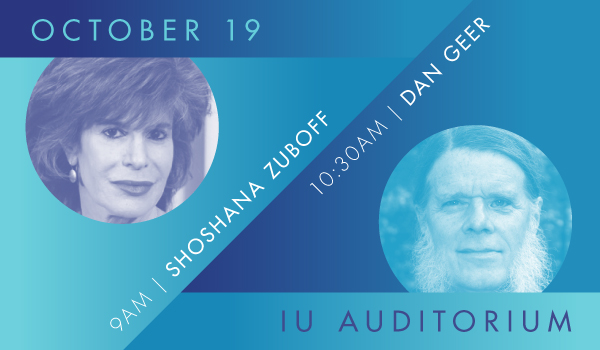 Take control of your online security
Learn more at the Cyber Security Awareness Month Speaker Series.
In recent weeks Equifax and Yahoo revealed significant breaches of client accounts. More than ever, protecting personal information is a subject on everyone's mind. We all know we should do it, but knowing how to do it well can be tricky.
The U.S. Department of Homeland Security has designated October as National Cyber Security Awareness Month. IU Libraries is offering a speaker series to help you feel more in control of your online safety:
Attention, web developers: GitHub has a new home
GitHub has a new address. The web-based interface for collaboration on software and documentation projects has left its home with Research Technologies and settled down with the Application Security and Quality Assurance (ASQA) team. The service will continue to be supported by UITS.
What does this mean for users? The GitHub server IP address changed, so users may need to clear DNS caches to continue accessing the service, and support for GitHub is now provided by the ASQA team. Otherwise, users shouldn't experience any functional differences in usage of the service. 
E-textile innovator to speak at IU Bloomington
Leah Buechley will discuss participation in STEM fields.
Interactive wallpaper that monitors its surroundings. Sewable electronics that create interactive fashion. Leah Buechley's invention, the LilyPad Arduino, led to incredible collaborations between textiles and technologies, illustrating how science, technology, engineering, and mathematics (STEM) priniciples are as much cultural as intellectual.
Buechley will present "STEM is Everywhere: Participation in Science, Technology, Engineering, and Mathematics" on Friday, October 27 at 1:30pm. Her talk is sponsored by the IU School of Informatics, Computing, and Engineering, the Center of Excellence for Women in Technology (CEWiT), and the National Center for Women & Information Technology (NCWIT).
The presentation explores historical connections between creative practices from different cultures, diversity, and STEM education.
Elevate your skills with an EdCert course
Researchers: Karst Desktop simplifies your supercomputing access
Service reduces the learning curve for people with little or no command-line experience.
Are you frustrated by Unix-like command-line environments? The Karst Desktop service lets you connect remotely to IU's Karst research supercomputer with an app running on your personal computer (Windows, OS X, or Linux). 
With Karst Desktop, you can:
Run applications remotely on Karst without noticeable lag
Submit jobs to Karst from your desktop
Easily transfer data between your computer and your Karst account
See your files in a browser window
Keep things running and reconnect later
2017 UITS Annual User Survey results now online
Dive deeper into survey data with Tableau
Review the results of the 2017 UITS Annual User Survey:
Survey responses help UITS make important decisions about the technologies available to students, faculty, and staff throughout IU.
Want to dive deeper into the survey data? Thanks to the UITS Research Analytics group, the Tableau dashboard tool presents you with a concise visual summary. You can even slice and dice the data by population and campus. 
But that's not all! Stay on the lookout for the 2018 survey during the upcoming spring semester.
Have questions or comments in the meantime? Contact: cesg@iu.edu
More IT news and events