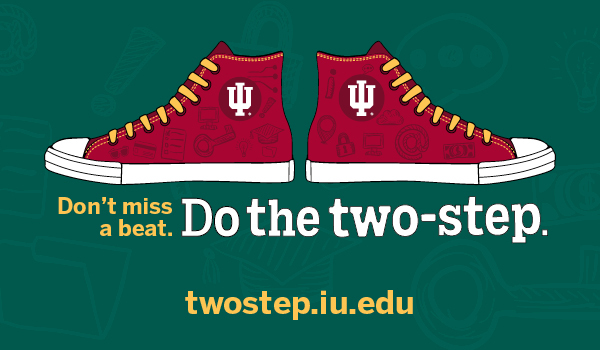 What is Two-Step Login with Duo?
Two-Step Login helps prevent anyone but you from logging in to your accounts, even if they have your username and passphrase.
At IU, Two-Step Login is done through a handy service called Duo. 
Why is Two-Step Login important?
Email and online scams (like phishing attacks) are becoming increasingly sophisticated. Two-Step Login adds a second layer of security, in case your passphrase is compromised.
How does it work?
Two-Step Login with Duo works like the two-step logins that many financial services require these days:
Enter your username and passphrase
Use your mobile device (recommended) or phone to complete your login
When you set up a device to use for two-step logins, be sure to set up a second option. That way, you have a backup in case you don't have access to your primary device (e.g., if your phone runs out of juice).
How do I set up a second device?
Common misconceptions
Rumor #1: You need a smartphone. Actually, a tablet, a regular cell phone, or even a landline will do. Most people find the mobile app to be the most convenient, but you've got several options—including Google Voice, which doesn't require a separate device. 
Rumor #2: You need a Wi-Fi connection. No problem if you can't connect—the mobile app works in airplane mode, without a cell signal, and without Wi-Fi. Just tap the key icon to get a passcode.
Rumor #3: You'll have to verify your identity all the time. Only every once in a while, when you log in via a new web browser session. (If you keep your browser open, you may only need to log in once a day on each device.)
Rumor #4: It's better to wait. Signing up now means you're registered for Duo—you aren't required to use it for all CAS logins until November 2, when UITS flips the switch (automatically enabling it).
Rumor #5: This is only for undergraduates. All IU account holders are required to enable Two-Step Login with Duo by November 2. That means undergrads, graduates, IU employees, group account holders, IU affiliates—basically, anyone who logs in to IU accounts through CAS.
How can I get help?