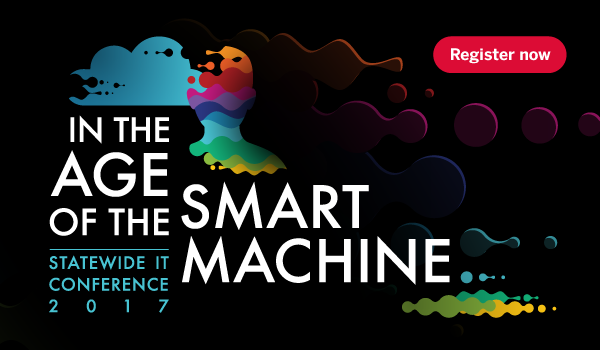 New this year: Cybersecurity Summit to take place alongside Statewide IT Conference
Dig deeper into issues of automation and security on October 19.
Join leaders from government, academia, and business for the 2017 Cybersecurity Summit, hosted by IU's Center for Applied Cybersecurity Research (CACR).
Presented alongside the Statewide IT Conference and open to all conference attendees, the no-cost summit (including lunch) will focus on topics affecting cybersecurity on the local and national level, including:
IT and the Fourth Amendment
legal and ethical issues around automation
biometrics and privacy impact assessments
Anyone interested in data protection, security, or cyber threats is welcome to attend the summit—spread the word to anyone who might benefit!
Note: Continuing Legal Education (CLE) credit is pending.
Let iGPS guide you to graduation
IU's graduation planning tools create the roadmap to your degree.
As much as you love IU, you probably want to graduate on time. How can you make sure you're on the right track to make that happen?
With the Integrated Graduation Planning System (iGPS), you can use degree maps to see requirements and course options to map out your four-year plan. Use the Plan tool to create and save your future course schedules, but don't worry—nothing is set in stone. If you change your major or have time conflicts, just revise your plan.
You can also view your completed and enrolled classes, making it easy to see where you are on your path to that cap and gown. Use iGPS to take the guesswork out of scheduling, because success doesn't just happen—it's planned for.
'How to Negotiate: A Primer'
Two-part series begins September 22 and is available to all IU campuses.
Not sure how to ask for what you want? Whether it's your salary or a refund, it pays to have confidence in your negotiating skills. In the "How to Negotiate" workshop you'll learn the basics of what, when, why, and how to negotiate, as well as:
the difference between principled negotiation and competitive bargaining
key concepts surrounding negotiation
how to apply concepts in both work and non-work situations
The series is led by School of Public and Environmental Affairs Professor Lisa Blomgren Amsler, in conjunction with IU Women in IT and the IT Leadership Community. The workshop takes place in the CIB Wrubel Lobby in Bloomington and will be streamed to all other IU campuses. 
IU Print makes it easy to get your documents
Print, copy, and scan securely on every IU campus.
Gone are the days when students had to trek to a designated computer lab to print out papers before class. Now all it takes is the swipe of a card, and you can print from any device that supports IU Print.
The IU Print platform is available to students, faculty, and staff on all IU campuses, supporting everything from scanning and copying to 3D printing. The student technology fee covers an initial allotment of print credits per semester; students and faculty can purchase extra credits or roll over unused credits to the next semester.  
Automatically upload Zoom recordings to Kaltura
New time-saving process to begin September 14.
A new integration between Zoom and Kaltura now makes it possible to automatically upload your Zoom cloud recordings to Kaltura as soon as a meeting ends. This replaces the process of saving the recording to your computer, then manually uploading to Kaltura.
For faculty members, this integration will make it easier and more efficient to share recordings in Canvas. Kaltura also offers added accessibility like automatic closed-captioning for hearing-impaired or multilingual audiences.
Have a tech question? Ask the Knowledge Base
There's almost nothing the KB doesn't know.
The Knowledge Base is your source for all IU tech answers. Need to know how to share files on Box? Want to add funds to your CrimsonCard? Can't figure out how to print from your mobile device? The Knowledge Base knows all of that and more.
From the top 10 technology tips for students to advice on how to avoid phishing scams, the Knowledge Base is your one-stop shop for IT information. If you can't find what you're looking for, you can use ITHelpLive to chat with a UITS Support Center.
More IT news and events