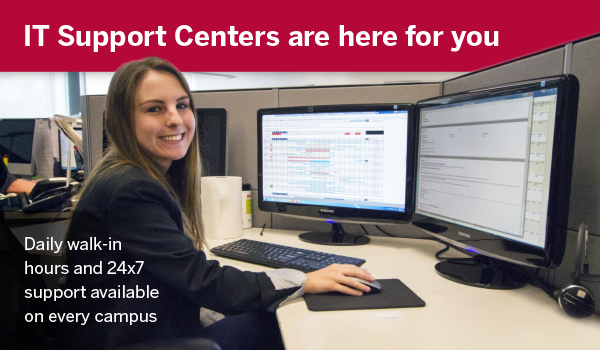 Why are you getting this newsletter?
The latest news on IT resources delivered right to your inbox.
The UITS Monitor is IU's official correspondence to notify faculty, staff, and students on all IU campuses about available IT resources. Every other week, it will show up in your inbox full of information about IT services and support available to you, as well as other notable IU news.
Other ways to receive IT news:
Get a backup device for Two-Step Login (Duo)--just do it
Trust us, you'll be glad you did if your primary device goes rogue.
By now, you have probably enrolled in Duo on at least one device. But what happens if that device is lost, left at home, or runs out of battery power? For these or any other unforeseen circumstances, it's a good idea to have a backup device. 
The list of recommended devices includes: 
Smartphone
Non-smart mobile phone
Tablet
Single-button hardware token (SBHT)
U2F key
Landline
Google Voice
After choosing a backup device, follow these instructions or watch a short video to learn how to enroll it in Duo.
Streaming and mobile TV for campus housing
With over 100 complimentary channels, there's no place like dorm sweet dorm.
Want to binge Game of Thrones or watch your favorite team from the comfort of home? At IU Bloomington and IUPUI, students in campus housing have access to over 120 channels of content from XFINITY On Campus™. Via computer, mobile device, or TV, everything from broadcast channels to sports and entertainment networks, including HBO, is available through Internet streaming or mobile apps. Just connect to IU Secure, grab a snack, sit back, and enjoy. 
Supercomputing at IU is for everyone
IT Training workshops take the fear out of high performance computing.
If the idea of logging in to a supercomputer for the first time is daunting, the Supercomputing for Everyone Series offered by UITS Research Technologies may be just what you're looking for. The workshops start in mid-September and cover topics including:
Faster Work, Safer Storage: an introduction to high performance computing at IU
Introductory Parallel Programming for Supercomputers: an introduction to using threads and message passing to harness multiple processors to accomplish a single task
Intermediate Parallel Programming for Supercomputers: learn three primary methods of parallelization as well as synchronous and asynchronous parallel algorithms
Workshops are offered at the IU Bloomington and IUPUI campuses.
August 31: Adobe Connect will become read-only
Download content you want to keep before December 28, 2017.
On August 31, Adobe Connect, IU's web collaboration and conferencing system, will become read-only. If you have created recordings, you will be able to access and download that content, but will no longer be able to conduct live meetings.
Here's how you can preserve your Adobe Connect content:
Find what you're looking for in IU Classifieds
Buy, sell, seek, or share here.
From furniture to a ride back home, a part-time job or concert tickets, all kinds of goods and services can be found in IU Classifieds. With ads open to students from all IU campuses, you're bound to find what you're looking for, whether it's a workout partner, a gaming system, or a book for class.
Go to One.IU and search "classifieds" to see what's out there waiting for you!
More IT news and events