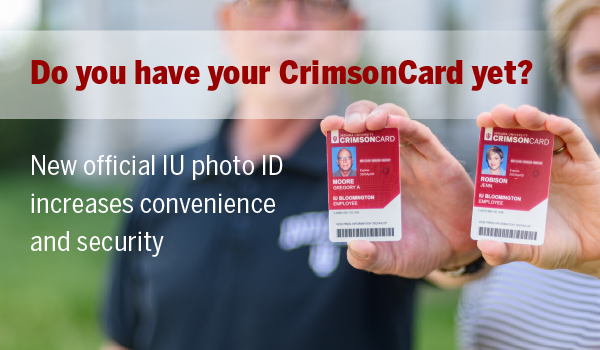 To protect your data and IU's, think before you click
You are still the best defense against the dark art of phishing.
Every day, IU cybersecurity professionals work to keep your email inbox safe from phishing scams.
Here's how:
Real-time scanning of all email to identify spamming and viruses
Monitoring to identify when a known malicious IP accesses an IU account
Applying automated and manual counter-measures to secure accounts when compromised
Despite this help, you are still the best defense against phishing. Remember to think before you click—every email, every time:
Always verify "sender" and "reply-to" email addresses are legitimate.
Hover first to view and verify actual URLs. Don't click links in emails if you don't have to.
Get more quick tips to protect against phishing >>
Learn about IU's phishing education and training tools and services >>
Top 10 tech tips for students
Classes start later this month—are you ready?
Summer kind of flew by, don't you think? Now it's time to get your head in the back-to-school game. UITS is here to help.
We help develop and maintain an award-winning tech environment, designed to support student success on every IU campus. We offer 24/7 IT support, training workshops, unlimited Box accounts, email, wireless networks, no-cost software, and more.
To quickly scan all the tech services available to you, read our Top 10 technology tips for IU students.  
Researchers: Karst Desktop simplifies your supercomputing access
Karst Desktop reduces the learning curve for people with little or no command-line experience.
Are you frustrated by Unix-like command-line environments? The Karst Desktop service lets you connect remotely to IU's Karst research supercomputer with an app running on your personal computer (Windows, OS X, or Linux).
With Karst Desktop, you can:
Run applications remotely on Karst without noticeable lag
Submit jobs to Karst from your desktop
Easily transfer data between your computer and your Karst account
See your files in a browser window
Keep things running and reconnect later
Learn more about Karst Desktop >>
Don't have a Karst account yet? Learn how to create one >>
Cool blog alert: Media Digitization and Preservation Initiative
Read the latest from the folks behind IU's audio, video preservation effort.
Are you curious about IU's landmark effort to rescue its audio and video recordings from the ravages of time, known as the Media Digitization and Preservation Initiative? Maybe you're fascinated by obsolete media, like wax cylinders and Betamax, and how the MDPI team works its magic.
Then you should check out the MDPI blog. There you'll get a behind-the-scenes look at the internal processes of archiving and preservation, and delve deeper into some of the works saved for future scholars and researchers.
Recent blog topics include:
"When is Betamax Not Betamax?"
"Orson Welles on the Air"
"Supporting Archival Donations and Donors"
Students: Deadline is August 16 to apply for CEWiT research opportunity
Earn research experience (and money) in the Center of Excellence for Women in Technology's Emerging Scholars program.
Do you want to build your research skills, connect with a faculty mentor, and earn money? Consider applying to the Center of Excellence for Women in Technology's Emerging Scholars Research Experiences for Undergraduate Women (REU-W) program.
The program is limited to freshmen and sophomore women on the Bloomington campus; applications are due August 16.
If selected, you will:
Be paired with a faculty mentor who conducts research that engages students with computing and/or technology. 
Perform 8 to 10 hours of research a week with the faculty mentor, learning hands-on research skills while also earning a $500 scholarship.
Take a two-credit undergraduate research methods class that focuses on research skills, project planning, giving elevator speeches, and more.
More IT news and events