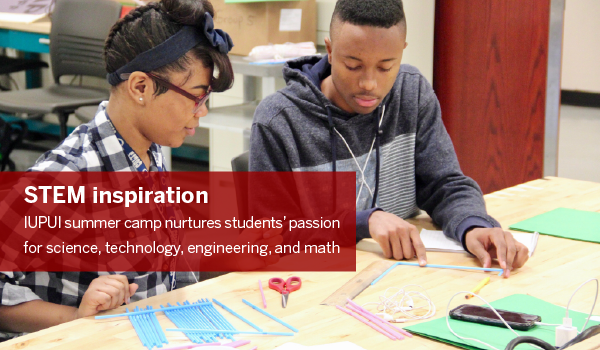 In the market for a new laptop or desktop computer?
Check out our ComputerGuide for deals by vendor, recommendations, and answers to common questions
Windows or Mac? What software do you need to buy? Which vendors offer hardware deals for IU students, faculty, and staff?
If you're hankering for a new machine, don't buy before checking out the UITS ComputerGuide on the Knowledge Base. Here you'll find answers to all your computer-buying questions, in one handy spot!
Students: Get your Game On! this fall
Learn all about tech at IU at our annual gaming event, Game On!
IU's annual tech and gaming event, Game On!, is coming to all eight IU campuses in August and early September. Hosted by UITS, the event lets gamers take part in video game battles and even experiment with a VR headset—all while learning how tech at IU can save you time and money.
P.S. There will be fun giveaways, too.
Here's where to find the Game On! event on your campus:
IU Bloomington: August 18, Indiana Memorial Union Frangipani room, 9pm-midnight
IUPUI: August 23, Campus Center, 11am-1pm
IUN: August 29, Moraine Lobby, 11am-2pm
IUSB: August 30, Admin Building Firesides A&B, 11am-2pm
IUK: August 31, Alumni Hall, 11am-2pm
IUPUC: September 12, Columbus Learning Center, 11am-2pm
IUS: September 13, Commons Dining Hall, 11am-2pm
IUE: September 14, Graf Center, 12-2pm
For more info, contact Alicia Hosey, UITS events marketing coordinator, at akhosey@indiana.edu.
Join CEWiT's new mentor collective
Center of Excellence for Women in Technology launches program to help students, alumnae connect
Google "mentoring benefits" and you'll get 51 million results. It's pretty safe to say there's no denying the benefits of a mentoring relationship, to both the mentor and the mentee.  
That's why the Center of Excellence for Women in Technology is launching a new mentoring collective for the 2017-18 academic year. The program will match female students with trained IU alumnae mentors based on professional aspirations, common interests, and background. Mentors and mentees meet virtually at least once per month to share, discuss, and connect.
Is your interest piqued? CEWiT is currently recruiting IU women students and alumnae to participate in the program.
D'oh! Your certificate for digitally signed email may be expired
Protect your personal information and check to see if you need to renew
Remember last summer when we urged you to start using digital signatures to secure your email messages? Many of you followed our advice, and we thank you. 
If you created a digital signature before October 3, 2016, your certificate was only good for one year—which means you'll need to renew it soon. (If you created it after that date, your certificate lasts for three years.)
IUanyWare to unveil new user-friendly design
You'll get more of an 'app store' experience on IU's streaming software service.
Start saying your goodbyes to the yellow folder icons: later this month, IU's streaming software service IUanyWare will have a more user-friendly look and feel.
Beginning July 27, simply log in as usual and go to the Apps tab, where you'll be able to search for your favorite app and add it to your "favorites" tab. Easy peasy. The goal is to create a fluid, consistent design that makes it easier to quickly find what you need.
More IT news and events