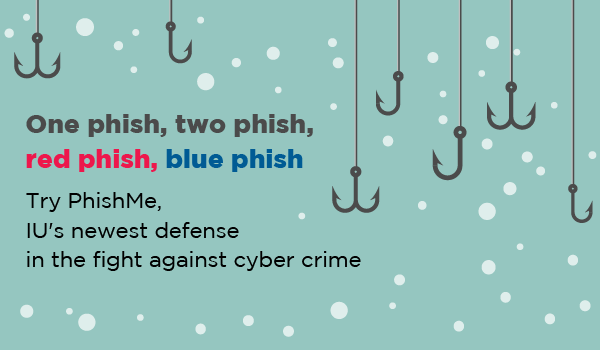 Do you have your CrimsonCard yet?
New official IU photo ID increases convenience and security.
The CrimsonCard is IU's new official photo ID, and all students, faculty, and staff need to have the new card in hand by next summer.
You can use your CrimsonCard to access university services and features, including meal plans, printing, libraries, and secure entry to IU buildings. It's more convenient, because you'll be able to use one card for everything, on any campus. And it's more secure, thanks to the built-in smart chip with encryption technology. 
To get your new ID, visit your local CrimsonCard office.
Vote for your favorite Canvas features
Help us improve IU's learning management system for everyone.
Do you wish you could print quizzes from Canvas? Or maybe you'd like to organize course conversations? Canvas users, the Canvas Priorities Committee (CPC) wants to know what matters to you.
Submit requests for new features and vote for your favorites on the IU Canvas Feature Request site.
Teens earn their cybersecurity stripes at this camp
The Security Matters CyberCamp offers hands-on learning from professionals in the field.
Do you know a high school student who's interested in cybersecurity? Encourage them to attend the IU Center for Applied Cybersecurity Research's Security Matters CyberCamp this month. 
The no-cost camp will run June 15–16, 8am–5pm, and will cover these topics:
Why websites get hacked and how
How computer networks function, how they're secured, and why it matters
What ransomware is and how to defend against it
Careers in cybersecurity
Led by CACR professionals, the camp gives teens fun, hands-on experience, Q&As, and a tour of the IU Bloomington Data Center.  
One.IU rolls out new features
Organizing favorites and writing reviews just got easier.
Search, Click, Done: Developers on the One.IU team have unveiled two new features to make finding what you need even simpler.
Now you can:
Organize your favorites into collections. Go to "My Favorites," click "Edit," click "New Collection," give it a title, and drag and drop your top apps into your new collection.
View a summary and initiate reviews by clicking on the stars on the front of a tile.
This fall, take IT Training online courses at your convenience
Certificate Series are moving to a self-paced Canvas course format.
As always, the folks at IT Training are focused on increasing flexibility, so you can take advantage of learning opportunities whenever works best for you.
Starting this fall, the content of IT Training Certificate Series will only be available in self-paced Canvas courses. 
Will IT Training instructors still host live sessions? Glad you asked:
IT Training will continue to provide online webinars about IT services and initiatives. The team can also arrange in-person training, when requested, for classes or groups.
August 31: Last day to access Oncourse
Don't forget to download or migrate content you want to keep.
Oncourse (IU's previous learning management system) is retired and in read-only mode. After August 31, your Oncourse content and data will no longer be available.
In keeping with IU data retention policies, though, Oncourse gradebook data will be preserved for purposes of grade disputes only through August 2021. 
Instructors: The Canvas Migration Tool will continue to be available until August 31.
Project site owners: A number of alternative platforms offer collaborative tools and workspaces.
About the Oncourse retirement >>
More IT news and events