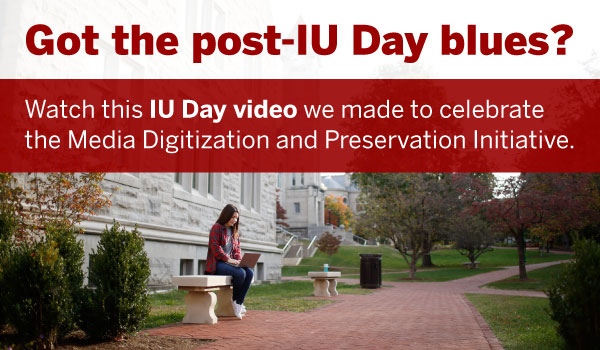 Graduating this semester? Make sure you read this
Here's what you need to know about your accounts, data, software before you leave IU.
It's the end of an era, you're beginning a new chapter, another door has opened…but you're not sure what to do with all the techy stuff you got while at IU? No worries. We've written a Knowledge Base article to answer your questions: https://kb.iu.edu/d/aoge
Still have questions? Don't hesitate to contact the UITS Support Center before you embark on your new journey.
Summer doesn't mean a break for the UITS Support Center folks
They're still only a click away when you need some tech assistance.
Sticking around IU for the summer? If you have technical issues after the spring semester ends, the UITS Support Center at your IU campus is still here to help.
While the hours may be slightly different, consultants will be available to assist you in person or around the clock via chat, email, and phone.
The Employee Center gets a makeover
You'll soon notice the Employee Center in One.IU sporting a refreshed look.
By this summer, the Employee Center will complete a move to the PeopleSoft platform. You'll notice the visual updates, but don't worry—nothing about the functionality is changing. You can still edit personal information, look at your paycheck details, view benefits, and more. The Employee Center's name and location in One.IU will stay the same, too.
With these updates, the Employee Center will be more secure, optimized for mobile devices, and able to support new or enhanced features in the future.
Instructors: Tip your hat to Top Hat, IU's new teaching platform
Top Hat and UITS are on hand to help you get started.
Top Hat is IU's new student-response platform of choice that allows instructors to engage students both in and outside the classroom. The system features interactive slides, graded questions, customized content, videos, discussions, and polls. It also seamlessly integrates with Canvas, offering one-click enrollment and gradebook synchronization.
Getting started with Top Hat
Attend a Top Hat workshop to help you set up. For more details >>
Or, explore these tips to get started:
Make an appointment at your campus teaching and learning center. 
Learn how to bounce back from challenges at ITLC workshop
Learn what resiliency is, see how you can build yours in the workplace. 
The IT Leadership Community has partnered with Lita Pener, senior organizational development consultant at University Human Resources, to lead a "Resilience—The Change Management Competency" workshop on May 16, 10am–noon. 
The workshop will cover what exactly it means to be resilient, and how you can build and apply resiliency to adjust to challenging times.
Faculty: Do your students need a customized tech training session?
IT Training offers short (10-90 min) sessions, in person or online.
These no-cost sessions—in person at IU Bloomington and IUPUI, or online for all IU campuses—cover technology resources available for your students, such as Canvas, Box, and IUAnyWare, as well as basic to advanced skills in Excel, Word, PowerPoint, Photoshop, and more. Sessions can be taught during your class time or at a different time as best fits your needs.
For more information and to request a session >>
Questions? Email ittraining@iu.edu, or call (812) 855-7383 (IU Bloomington) or (317) 274-7383 (IUPUI).
More IT news and events