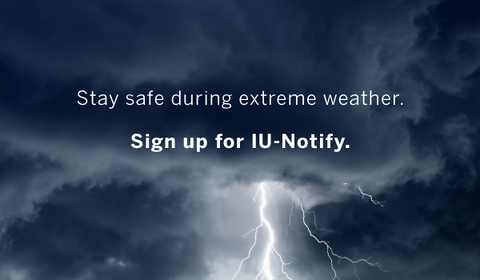 Say 'yes' to IU Secure certificate upgrade tomorrow
When prompted to accept new certificate on April 13, just accept it.
IU Secure, Indiana University's Wi-Fi network, is upgrading its security certificate. 
On April 13, IU Secure may prompt you to accept the Client Authentication certificate on all of your wireless devices. Say "yes" to accept the certificate and stay connected. For assistance, see kb.iu.edu/d/beqk or contact the UITS Support Center.
Say "yes" and stay connected to secure wireless on campus.
Save the date: IU's VP for IT Brad Wheeler talks cybersecurity April 21
Hear what's being done and what's in store to combat cyber criminality.
The inaugural presentation of the joint Center for Applied Cybersecurity Research and the IU Kelley School of Business series on cybersecurity, "Cybersecurity: It's worse than you think…and what to do about it," will take place at the Kelley School (BLHH 4006) on April 21, 1:30–3pm. Live streaming will be available.   
The series is co-sponsored by the Center for Applied Cybersecurity Research and the Kelley School of Business.
It's here! CrimsonCard has arrived
You can now get your hands on IU's new official photo ID for all campuses.
CrimsonCards are now available for all IU faculty, staff, and students on all eight IU campuses. Get your hands on one of these beauties at your local CrimsonCard office location.
With CrimsonCard, you can:
print
get into authorized buildings like dorms and offices
check out materials from the library
access your campus meal plan
and more!
It also works like a debit card across campus and at participating off-campus retailers. CrimsonCard will replace all existing campus cards by fall 2018, so make sure you get yours!

Questions about CrimsonCard? Visit the website: crimsoncard.iu.edu
Concerns about Duo? Let us settle them
Here's hassle-free Two-Step Login with Duo explained.

Cyber thieves are a real threat. They're the bad guys who want to steal your personal info and hack your bank accounts. And they're relentless.

That's why IU has rolled out Two-Step Login (twostep.iu.edu) with Duo to add a second layer of security to your personal data.

Don't worry. It doesn't take rocket science to use Duo. Here's why:

1. You don't need a smartphone. A tablet, a regular cell phone, or even a landline will do. Most people find the Duo app to be the most convenient, but you've got several options.
2. You don't need a cell signal. The Duo app works in airplane mode and without Wi-Fi. Just tap the key icon to get a passcode.
3. You won't have to verify your identity ALL THE TIME. You'll only have to do that every once in a while, when you log in via a new web browser session. (If you keep your browser open, you may only need to log in once a day on each device.)
4. It helps to have a back-up device. Forgot your phone in the car? No problem. Make sure you register a second, back-up device to avoid getting locked out.

For more info on Two-Step Login with Duo >>

Questions about Two-Step Login? Contact your local UITS Support Center >>
Explore the dark side of tech in 'Death by Design' docu (IU Bloomington)
Watch a new film on the hidden environmental and human costs of our gadgets.
The IU Office of Sustainability's Sustainable IT Working Group is hosting a screening of Death by Design, a new documentary by the award-winning filmmaker Sue Williams, April 19 at 7pm, in IU Bloomington's Woodburn Hall 100.
The film traverses the globe, uncovering the impact of the deluge of devices flooding world markets—from unsafe working conditions in Chinese factories to their toxic electronic waste. You'll also follow entrepreneurs pursuing more sustainable tech and the activists trying to hold brands accountable.
New IT Training short workshop format coming to a classroom near you
The new, short format sessions (75 minutes or less) are online and in person.
Based on survey feedback, IT Training is introducing short 45- to 75-minute IT workshops. These will be taught in various locations at IU Bloomington and IUPUI as well as online.
Many of these sessions will help master the IT Training Certificate Series content, currently available only in three-hour increments. The Certificate Series will be hosted in Canvas this fall, and the new, shorter workshops will augment these. 
To see IT Training's April schedule, visit: ittraining.iu.edu. 
Questions? Email ittraining@iu.edu, or call (812) 855-7383 (IU Bloomington) or (317) 274-7383 (IUPUI).
More IT news and events