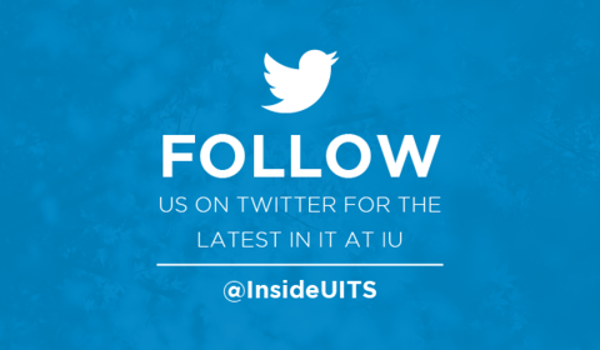 Read this if you use IU's Outlook Web App
An upcoming security update will change the way you log in to IU's Outlook Web App (OWA)
To prepare for the change on April 23, you need to know three things:
Logging in to OWA will require IU's Central Authentication Service (CAS).
If you're required to use Duo to log in to CAS, you will need it for OWA.
If you're not enrolled in Duo, you should set it up as soon as possible.
OWA logins via mail.iu.edu and www.exchange.iu.edu will automatically redirect to CAS. Anyone required to use Duo with CAS will be prompted to do so. The update will not affect logins from desktop or mobile clients.
If you haven't set up Duo, avoid delays by enrolling now (twostep.iu.edu).
Questions? Contact your local UITS Support Center.
Mosaic Initiative to launch on regional campuses
Join the celebration with a luncheon at IU Kokomo
The Mosaic Initiative supports active learning at Indiana University through classroom design, instructional support, collaboration, and research. And now, it's expanding to all regional campuses, too.
You're invited to join speakers Stacy Morrone, IU associate vice president of learning technologies, Mark Canada, IU Kokomo's vice chancellor for academic affairs, and Anna Bostwick Flaming, teaching and learning specialist at the University of Iowa's Center for Teaching, for a celebratory luncheon.
When: Friday, April 7, 11:30am–12:45pm
Where: Kelley Student Center 130, IU Kokomo 
Got trust issues? This next IT Leadership Community workshop should help
Join IU HR pro Martie Adler to learn about trust in the workplace
The IT Leadership Community is hosting a workshop with Martie Adler from University Human Resources on April 7, 1:30–4pm. The topic is Stephen Covey's Speed of Trust.
In this session, you will focus on how to infuse trust in your relationships and organizations by:
Building a foundation of vulnerability-based trust
Learning and demonstrating the 13 behaviors of high-trust leaders
Implementing the team trust/competence grid within your organization
The workshop will be available on all campuses. Learn more and register >>
Faculty, staff: Bon Voyage, Travel@IU
Start logging travel in the Travel Expense Module
Effective April 1, new trips cannot be created in Travel@IU. This service will officially retire on July 1 and will be replaced by the Travel Expense Module (TEM) of the Kuali Financials System (KFS).
If you use Travel@IU for a trip after July 1, 2017, then you'll need to re-enter it in TEM for reimbursement (even if it has already been authorized). If you already used it for a trip before July 1, then Travel@IU will still process reimbursement.
After July 1, you'll no longer be able to access trips on Travel@IU, but past data will still be available via IU Information Environment Reports.
To initiate a new trip using TEM, search for "Travel" on One.IU and select Purchasing and Travel Expense Modules.
This Women Who Code workshop isn't just for women who code
All are invited to attend the next event in CEWiT's Women Who Code speaker series
The Center of Excellence for Women in Technology's Women Who Code special interest group invites you to hear from Cynthia Phillips, senior scientist of the Sandia National Laboratory, in an upcoming workshop as part of the group's special speaker series, March 31, 4:30–5:30pm.  
Phillips will discuss national labs, computer science, and her experiences as a woman in the field of science and technology.
Add to your Zoom knowledge with IT Training's webinars
Become a pro in the web collaboration tool Zoom
Zoom is IU's new web collaboration tool of choice and is available to all students, faculty, and staff. Find out more about Zoom >>
Increase your skills with these webinars:
Zoom: The basics
April 5, noon–1pm, Online 
Zoom: Getting more from your experience
April 10, 2:30–3:30pm, Online
May 9, 2–3pm, Online 
Zoom: For Adobe Connect users
May 4, 11am–noon, Online 
For a full list of UITS IT Training's offerings, visit ittraining.iu.edu.
Questions? Email ittraining@iu.edu, or call (812) 855-7383 (IU Bloomington) or (317) 274-7383 (IUPUI).
More IT news and events