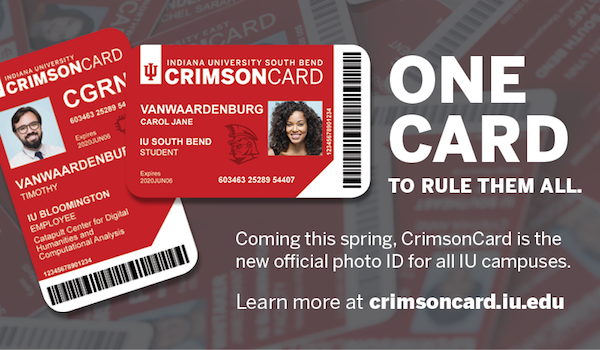 Faculty: The IU eTexts adoption portal is now open
Select eTexts for your summer, fall, and winter semesters
Help your students save up to 75% off the retail price of traditional textbooks by adopting an eText through Indiana University's eTexts program.
There are more than 88K titles from over 25 publishers. All students will have access to their eTexts before the first day of class through Canvas. 
To order an eText, visit: go.iu.edu/1ttm
Learn more at: etexts.iu.edu
Friends don't let friends do the one-step
Safeguard your personal data and join the Two-Step party
You may have heard a thing or two about doing the Two-Step lately with a handy little app called Duo. 
Over 110K users (IU faculty, staff, and students) have already signed up for Two-Step Login with Duo, adding a second layer of security to their personal information and financial data. Combined, these users racked up 533K successful logins in the first week following February 2. Of IU's 114K students, half have already done the Two-Step Login at least once before. 
Don't be late to the dance. Get your Two-Step on, too.
For more info, visit: twostep.iu.edu
Not just a pretty (inter)face
Learn about the new User Experience Office at the next Cabinet Series event
Join Brian Hawkins, acting user experience officer at IU's Office of the Vice President for IT and CIO, at the next Cabinet Series presentation, entitled "Not Just a Pretty Interface." 
The presentation will be held at IU Bloomington's Cyberinfrastructure Building (Wrubel Lobby) on Monday, February 27, 2–3pm, and will focus on what user experience (UX) is exactly, and what goals the new User Experience Office will have.
Live streaming will be available, or join through video bridge 231665.
You've collected your data. Now what?
This new data sharing and handling tool will help you use it, and protect it
Understand how to share, handle, and store your data securely with the just-launched Data Sharing and Handling (DSH) tool. It allows you to query data guidance and best practices by providing just three or four pieces of information, and clicking a button. Easy! 
For more information about DSH >>
Worried about keeping your data safe from criminals? This article helps explain the concept of Ransomware, and how to avoid costly consequences of inadequate data protection.
The future of tech is bright
Learn how to nurture young tech talent from Indiana entrepreneur
Hear about the state of tech in Indiana and how you can help cultivate its young tech talent at this next IT Leadership Community Speaker Series talk with Mike Langellier, president and CEO of TechPoint. Langellier will also share some handy tools that he adapted from Salesforce (a cloud computing company) in order to increase team productivity.
The talk will take place Wednesday, March 8, 10am, and can be joined from all IU campuses.
Learn skills to manage your data deluge
IT Training workshops on SAS, SPSS will help you handle your statistical data
Join IT Training to learn about SAS (Statistical Analysis System), a powerful application used for data management and analysis.
SAS: The Basics
Thursday, February 23, 5:30–8:30pm
Social Science Research Commons Grand Hall, IU Bloomington 
One week later, you can learn all about SPSS (Statistical Package for the Social Sciences), a powerful statistics application. This workshop will be an intro to SPSS for attendees to learn how to perform common basic statistical analyses.
SPSS: The Basics
Thursday, March 2, 5:30–8:30pm
Social Science Research Commons Grand Hall, IU Bloomington 
Questions? Email ittraining@iu.edu, or call (812) 855-7383 (IU Bloomington) or (317) 274-7383 (IUPUI).
More IT news and events