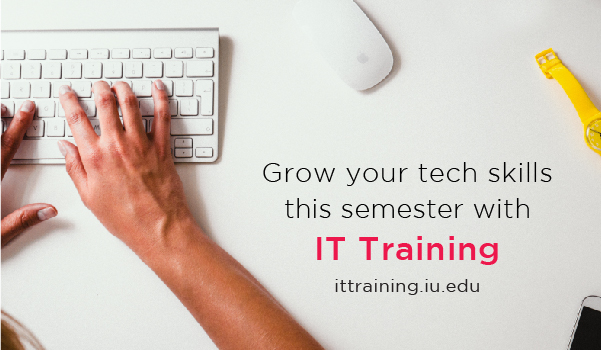 Sign up now for Two-Step Login with Duo
Do your part to protect sensitive data from online scams
Two-Step Login with Duo adds a second layer of security for your personal information and financial data—and it's required for all IU employees by February 2. 
Note: Sponsored affiliates are also required to use Two-Step Login. If you sponsor a computing account for a contract employee, a consultant, or another individual, please be sure they are aware of this change.
To sign up, go to: twostep.iu.edu (login required)
New year, new opportunities for IU Bloomington students with a techy streak
The Center of Excellence for Women in Technology has two new internships available
Are you an undergraduate (male or female) with prior leadership experience, strong communication/project management skills, and a knack for social media? Passionate about technology to boot? 
Then this internship as a social media special interest group lead might be right up your alley.
For more details and to apply >>
CEWiT is also seeking a graduate intern for a program evaluation position. Help the team achieve program goals by adding your tech know-how.
Instructors, students: Introducing Top Hat classroom response system
This new teaching platform creates an interactive lecture experience with slides, Q&A, and custom content.
Top Hat features include:
A modern, easy-to-use interface for authoring and managing content, polls, and results
Instructional content and results stored in the cloud and accessible from any location or device
Support for learning activities both inside and outside the classroom
One-click grade and enrollment synchronization with Canvas 
Learn more about Top Hat and create an account >>
Join the Global Game Jam
Get creative with fellow gamers at this global online gaming event
The Global Game Jam is a game creation event taking place worldwide (think of it as a hackathon focused on game development) January 20–22. IU will host a site in Franklin Hall on the IU Bloomington campus.
Join forces with the Women in Game Design (WIGD) group, fellow IU students, and local game designers to create a game within 48 hours.
No programming experience necessary: the WIGD will demonstrate game design software before the jam officially begins. 
Faculty: Prepare your students with short tech trainings
Get everyone up to speed with IT Training's Student Outreach service
Now you can easily connect your students to tech training and resources using IT Training's Student Outreach service. IT Training instructors will provide a short, in-person training session to benefit your class, while informing students of support options.
This service is available in person at IU Bloomington and IUPUI, and can be arranged online for any IU campus.  
To arrange a quick training session, fill out the request form at studentoutreach.iu.edu.
Questions? Contact UITS IT Training.
Email: ittraining@iu.edu
Phone: (812) 855-7383 (IU Bloomington) or (317) 274-7383 (IUPUI)
Got big data? Join IBM, NVIDIA leaders to learn more
IU hosts workshop for people interested in high performance computing, big data analytics, and life sciences
Are you a high performance computing (HPC) professional? Do you work in big data analytics or life sciences? Join NVIDIA and IBM leaders for a special event on Tuesday, January 26, about industry trends and solutions. 
Presenters:
Brad Davidson, NVIDIA senior solutions architect
Janis Landry-Lane, IBM worldwide program director for genomic medicine
Jane Yu, IBM worldwide team lead, translational medicine solutions
More IT news and events