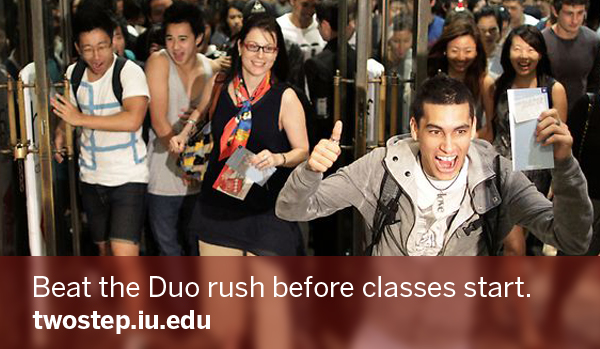 Work off some of that turkey, get your Two-Step on with Duo
Two-Step Login with Duo is required for all Indiana University staff and employees. Sign up now before the spring semester rush.
To get step-by-step instructions, visit the IU Knowledge Base website and search for "Duo," or visit: twostep.iu.edu
What is Two-Step Login with Duo?
Duo provides two-step logins for secure systems at IU. It adds a second layer of security for your personal information and financial data.
Verifying your identity via a second step helps prevent anyone but you from logging in—even if they know your username and passphrase.
Why is Two-Step Login important?
Email and online scams (phishing attacks) are becoming increasingly sophisticated. Duo Two-Step Login—also known as two-factor authentication—adds a second layer of security, in case your passphrase is compromised. 
How does Two-Step Login work?
Two-Step Login with Duo works like the two-step logins that many financial services require: 
Enter your username and passphrase
Use your mobile device (recommended) or phone to complete your login
When you set up a device to use for two-step logins, be sure to set up a second option. That way, you have a backup in case you're without access to your primary device.
Note: Don't forget to enable Two-Step Login for all CAS (Central Authentication Service) logins. If you've already enrolled, you may still need to complete this second step.
How to get help with Two-Step Login
Use the IU Knowledge Base to search for answers online, or contact the UITS Support Center. Our team is poised and ready to help 24/7 by phone, chat, or email. For in-person support, visit a campus walk-in location. 
To reach your campus support center, visit the IU Knowledge Base website and search for "support center," or visit: https://kb.iu.edu/d/abxl
Oh, and one last thing