New IU safeguards for your personal and financial information
It's important to protect your personal and financial information. That's why IU is using Duo two-factor authentication to increase the security on the systems where you access that information.
Duo Authentication increases the security of your information and reduces the risk of unauthorized access to your information from phishing scams.
Duo Authentication requires a second authentication step after you log in via CAS. This is done through a mobile application (the recommended method), text message, or phone call.
Members of the IU community must now use this process in order to view or change personal or financial information in IU systems, including W-2 tax forms and information related to payroll, direct deposit, and bursar statements.
Find out more about enrolling in Duo Authentication or watch this video. Please contact the UITS Support Center or your departmental IT staff for further assistance.
Robots go on a mission to Mars, commanded by local students
Local students flocked to the first session of the 10th annual Ready, Set, Robots! Camp, held June 16-17 at IU Bloomington's Cyberinfrastructure Building.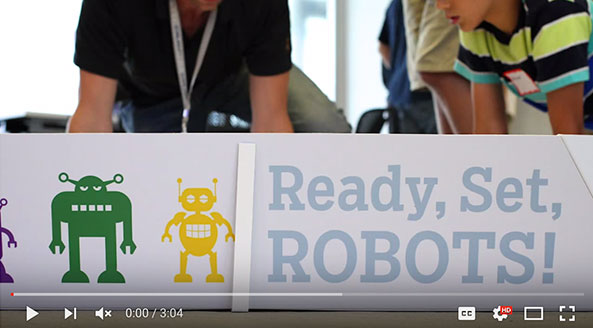 Hosted by IU's Pervasive Technology Institute, IU technology professionals taught basic computer programming skills to the participants at the two-day, hands-on workshop. Campers learned how to command LEGO® Mindstorms® robots on a simulated mission to Mars, culminating with a Robot Grand Challenge at the end of the session.
Stay in the know with IT Connections' summer issue
Featuring stories about everything from 3D printing at IU to an IU employee moonlighting as a minor-league baseball team's mascot, you can't afford to miss out on the new issue of the IT Connections newsletter. 
Learn more about the people behind IT@IU, including technology that benefits the Bloomington Fire Department and how a member of IU's leadership got a new perspective on higher education by going back to school.
Gather around the water cooler to learn more about IT Audits
On July 14, IT Community Partnerships will host an IT Water Cooler is the afternoon session, featuring discussion surrounding the tools and services available for IT Audits.
The following lightning-round topics were selected based on feedback from the recent audit sessions with IU CIO and Vice President for IT Brad Wheeler:
IT policy alignment consultations and Log-ALERT by HELPnet
Full disk encryption
Video surveillance policy updates with IU Chief Security Officer Tom Davis
Disaster recovery and business continuity plans with IU Emergency and Management Continuity Program Director Cinda Haff
The session will conclude with Dennis Gillespie from IU Internal Audit sharing plans for the 2017 fiscal year and answering audit questions from attendees.
Register for the IT Water Cooler and submit your questions online at go.iu.edu/1g9m.
Questions? Contact IT Community Partnerships at talk2uits@iu.edu.
Let UITS IT Training help your group
Did you know UITS IT Training can conduct a specially scheduled workshop for your class, department, or group—at no cost?
This service can be provided in the IT Training classroom, in your facility, or even online, regardless of the IU campus, as long as a minimum of 10 people attend.
New updates to Adobe Creative Cloud
Important news for professional designers and casual users alike: Adobe has published new updates to its popular Creative Cloud suite. 
This software is available to IU students, faculty, and staff, and features tools like Photoshop and Illustrator. For those of you with software packaging responsibilities, the Creative Cloud Packager was recently updated and Adobe says it will cut installation times by more than half.
More IT news and events