Summer opportunities abound for tech-minded K-12 students
Know a student who's interested in programming robots for a mission to Mars? What about a teen who wants to learn more about fighting cyber attacks? Or, younger students, who'd love hands-on learning at a technology fair?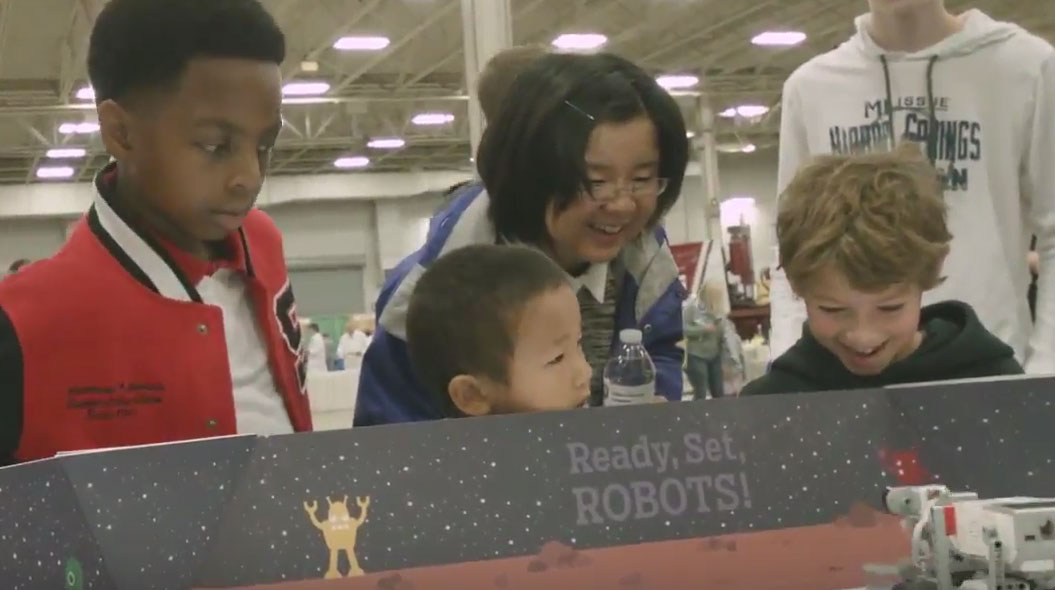 IU's Pervasive Technology Institute (PTI) is hosting a variety of events this summer for K-12 students to experience the world of IT.
Sponsored by UITS Research Technologies, this camp introduces teens to technology-related fields. IU technology professionals and researchers will teach computer programming, visualization, networking, and other concepts. There are two beginner-level camps in June and July, and an advanced camp in August.
Hosted by IU's Center for Applied Cybersecurity Research (CACR), this new one-day camp for high school students (including recent graduates) is a path into the field of cybersecurity.
The camp takes place on June 24 at IU Bloomington's Cyberinfrastructure Building. It comes at no cost to participants, but registration is required and availability is limited.
Younger students (and kids of all ages) always enjoy this annual event, June 11 and 12, in Indianapolis.
In past years, activities at PTI's booth have included: building robots out of everyday household items; using an iPad to augment reality; bending light and sound using water, glass tubes, and fiber-optic cable; and learning about the stars, tornadoes, and filmmaking through 3D movies created at IU.
IU data scientists launch "awesome" tools to analyze online trends
Was #thedress blue and black or white and gold? How many Twitter users wanted Katy Perry to take the #icebucketchallenge? The Observatory on Social Media, or OSoMe (pronounced "awesome"), has the scoop.
A user-friendly online software suite developed by IU data scientists led by Filippo Menczer, director of IU's Center for Complex Networks and Systems Research and a professor in the School of Informatics and Computing, OSoMe examines social media trends and memes.
Supported by $1 million from the National Science Foundation, the project comes at no cost to users.
This summer book club is all about "fun"
Before the dog days of summer, consider how you can emphasize the elements of your job that make coming to work exciting. Better yet—read about it.
Open to the entire IU community, the summer book club for the IT Learning Community (ITLC) will discuss Pete Williams' book Fun Is Good: How to Create Joy and Passion in your Workplace and Career. For five consecutive Tuesdays at 4pm beginning June 21, participants will contemplate the book's insights and how to apply them on a daily basis.
Discussions will take place at the following locations:
IU Bloomington: Cyberinfrastructure Building, 207A
IUPUI: IT-209
Regional campuses: TBD
Interactive exhibit explores Angel Mounds
When two very different IU departments work together on a project, the results can be amazing.
Blending technology and archaeological studies, IU's Advanced Visualization Lab (AVL) and the Glenn A. Black Laboratory of Archaeology recently collaborated to produce an interactive exhibit highlighting the Angel Mounds State Historic Site in Evansville, Indiana. The National Historic Landmark is a prehistoric Native American site, recognized as one of the most well-preserved of its kind in the U.S.
Featuring a high-resolution, multi-touch map of the site with photographs and videos, the exhibit is installed at IU Bloomington's Glenn Black Lab, coinciding with the lab's 45th anniversary.
Earn a certificate in Office Productivity
Take advantage of the summer break by attending one of the following UITS IT Training workshops to brush up on your skills. Or attend the entire series (you have a full calendar year to complete the sessions) to earn a certificate.
       Tuesday, May 17, 5:30-8:30pm (Online)
       Wednesday, May 18, 1:30-4:30pm (Online and IUPUI, ICTC IT121)
       Thursday, May 19, 1:30-4:30pm (IU Bloomington, Wells Library W144)
       Thursday, May 19 5:30-9pm (Online)
       Thursday, May 26, 1:30-3:30pm (Online)
       Thursday, June 2, 1:30-3:30pm (Online)
        Thursday, June 23, 9am-noon (IT121)
        Thursday, June 7, 9am-noon (Online and IU Bloomington, Wells Library W144)
Dell deals for IU include Memorial Day specials
IU students, faculty, and staff can reap major savings by purchasing PCs and bundles from Dell, including Alienware products for gaming. 
Get a Samsung 32-inch TV or Xbox One at no cost when you buy a select Dell PC for $699.99 or more. Register through Dell's Member Exclusive Store for an extra 20 percent off the brand's most popular bundles. For Dell's Memorial Day sale, early access for members begins May 23.
Email Dell with questions about specific items. Please note that offers cannot be combined.
More IT news and events